Michael Rettig
Editor
For the past century, Turkey has pursued a policy of repression and homogenization   towards its various ethnic minorities. The current Republic of Turkey has an egregious track record of human rights violations, with slogans such as "one nation, one flag, one state" drowning out those who would call for a more democratic Turkey. In spite of this, the voice of Garo Paylan has reinvigorated the opposition with his message of equality and liberty for minorities. Paylan, an Armenian MP in the Turkish Parliament and member of the Peoples' Democratic Party (HDP), made recent headlines for reading the names of Armenian MPs executed in the Genocide in the Turkish Parliament. Paylan and fellow HDP members were also targeted and physically attacked during Parliamentary talks over constitutional amendments.
On Tuesday, September 27, Paylan visited Fresno as a part of his nationwide tour to meet with Diasporan communities and leaders. He visited the Ararat Armenian Cemetery before arriving at Fresno State as a guest of the Armenian Studies Program to share his unique perspective on current events in Turkey. The program was organized as a dialogue between Prof. Barlow Der Mugrdechian, Prof. Sergio La Porta, Paylan, and the audience.
Paylan began his presentation by describing his childhood as an Armenian growing up in Turkey and the road that led him to become an advocate for democratic principles. Paylan remembered that his first awareness of the Genocide came when he asked his grandmother if she ever had siblings. He would ask her several times, but she would always grow silent. Finally, an uncle hinted to Paylan that "something bad had happened." Paylan realized this "something bad" still affected the present when he was called giaour, or infidel, in the streets. "I realized there was something bad about my identity, and I grew angry about what happened to my ancestors." Streets with names such as "Talaat" and "Enver Pasha" were constant reminders about what happened to his people, and further fueled his frustration.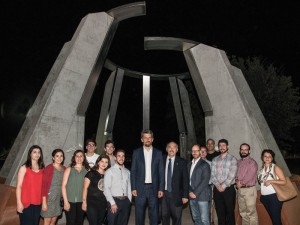 Paylan described the fear that Armenians in Turkey felt when it came to discussing their past. "We had to be silent. Whenever we raised our voices about this terrible wound in our hearts, something bad would happen." His meeting with Hrant Dink would alter the course of his life. "Dink had the courage to tell the people that something bad had happened in this land, without needing to call it genocide, and because of that crime, all of us are suffering. Then they took him from us as well."
Dink's assassination in 2007 deepened Paylan's frustration, and he became more entrenched in his Armenian identity. It was in this pain that he noticed Turks and Kurds were also angered by Dink's death and desired justice. "When I noticed that I was suffering because of Dink, I realized that a lot of people were suffering alongside me. I wanted to take care of all of the minorities who suffered. So I went into politics and we started a party that believes in equality."
Paylan helped to form the Peoples' Democratic Party with liberals of all backgrounds. It was this solidarity among Kurds, Turks, and Armenians who believed in democratic ideals that tempered his anger and lead him to activism. Paylan's party actively advocates for the rights of minorities and is the only party in Turkey that has formally acknowledged the Armenian Genocide.
Paylan stressed that the only way for Turkey to recognize the Armenian Genocide is if the nation becomes a true democracy. It is through Parliament that Paylan hopes to bring about change. He drew parallels between his goals and those of Armenians in Parliament before the Genocide; "they only asked for their rights; for local democracy." On April 24, Paylan referenced the Armenians in Parliament who had been killed in 1915. His fellow MPs, who considered him to be the first Armenian in Parliament, were astonished that there had been Armenians in such positions a century earlier. Paylan touched on the reason for this ignorance in his recollection of his high school history class. His instructor told the class that Armenians were traitors and had to leave the country because of it. However, Paylan does not blame the Turkish people. "They are not guilty. The system educated them with this lie for three generations. Turkey was established on this lie, which is leading to new crimes."
Paylan touched on these more recent crimes in discussing Erdogan's oppressive campaign against the Kurds. According to Paylan, Erdogan is taking advantage of the attempted coup to persecute those who oppose him. Paylan stated that Erdogan replaced a number of democratically elected mayors in the eastern provinces with governors.
According to Paylan, Erdogan's harsh treatment of the Kurds only exacerbates the problem and results in more Kurds taking up arms for their rights. "It is a vicious cycle of Turks persecuting Kurds and Kurds going to the mountains to fight. Parliament is the place to solve the problems. I have buried too many people."
In response to a question about what the Diaspora could do to support his efforts, Paylan reminded the audience that he is also part of the Diaspora. "I am from Malatia. You are my relatives, so we are living in the diaspora as well. Our responsibility is the same; we have to do this together."
Paylan's visit to the U.S. has been instrumental in bridging the divide between Armenians in Turkey and the Diaspora. He noted that Diasporan Armenians are often ashamed of those who remained in Turkey for not being vocal enough about their heritage. "Sometimes we had to be silent. It's so hard to be an Armenian in that fascist land where we suffer."
Paylan and the HDP are courageously fighting for the rights of Armenians, Kurds, and every other oppressed people in Turkey. His visit gave a face to this struggle and rallied Armenians around the world in support of his dream for a free and democratic Turkey.