Tamar Karkazian
Editor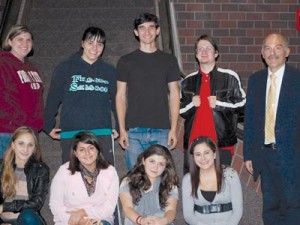 People often say the people you work with make the experience amazing or not; they influence the environment and outcomes. During the past three years a dedicated group of students, who make up the Hye Sharzhoom newspaper, have provided an amazing experience. They are all dedicated to the Armenian community and are always willing to give 100% to make sure the paper succeeds. I wanted to take a moment to recognize these dedicated and talented individuals and thank them for all their work.
This year, Hye Sharzhoom has a staff of 11 students: Denise Altounian, Armen Arikian, Evelyn Demirchian, Andrew Esguerra, Tatevik Hovhannisyan, Mari Koshkakaryan, Suren Oganessian, Ruzan Orkusyan, Emma Shaljyan, Marine Vardanyan, and myself. They range from freshmen and sophomores, to graduate students, and have majors such as business, journalism, biology, and political science. They have a variety of interests and volunteer and participate in numerous clubs and organizations at Fresno State and in the community. But despite all their individual likes and characteristics, they all have one thing in common-a love for their culture and an even greater love of sharing what they know, think, and see.
Prof. Barlow Der Mugrdechian, is Director of the Armenian Studies Program, and has been the Hye Sharzhoom advisor for the past twenty-seven years. "It is great to work with such an enthusiastic staff. We have been fortunate to have students who are willing to work hard to produce a paper that is read throughout the world. I commend the staff for their dedication." Hye Sharzhoom is the oldest continuously published Armenian university paper, with its first edition having been published in 1979.
When I asked my staff what they enjoyed most about writing for Hye Sharzhoom I got various answers. "Writing for Hye Sharzhoom is something that's added so much to my Fresno State experience and I am incredibly grateful for having the opportunity to have done so," stated Evelyn Demirchian, a staff writer of several years.
"The best part of writing is seeing all the work you put in get published," said sophomore Denise Altounian.
"The opportunity to take pictures of people who have taught me and the Fresno community so much about the Armenian culture has to be my favorite part," stated dedicated photographer Erica Magarian.
We also want to thank you, the readers, for your continuous and overwhelming support. Emma Shaljyan explains our gratitude best, "When I realize that readers are waiting to get an issue of Hye Sharzhoom I become very happy."
We write because we want to share our pride and joy in the community but it is because of you, the readers, we continue to grow and flourish.