Caitlin Tiftick
Staff Writer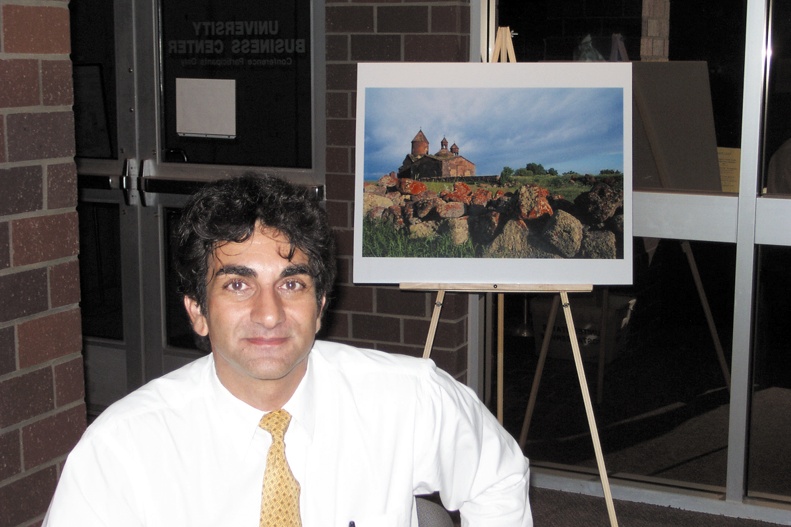 Do you want to travel to Armenia but don't have the first clue about how to get there? Maybe you are scared that it is a poor country with a lot of crime. Or maybe you just don't know what to see or what Armenia has to offer.
In a photo tour presentation cosponsored by the Armenian Studies Program and Armenian Students Organization on September 13, Matthew Karanian, co-author of Armenia & Karabagh, offered a realistic view of Armenia in present time.
Matthew Karanian and co-author Robert Kurkjian started capturing Armenia with a coffee-table photo-book called Out of Stone in 1995. The photo book was very successful and "raised the bar for photographers doing work in Armenia," said Karanian. In fact, the photo-book raised awareness about Armenia and inspired people to travel there.
Karanian received several phone calls asking him how to get to Armenia so that his audience could see the works in the photographs in person. This is what eventually led Karanian to write a travel book on Armenia & Karabagh.
But writing a travel guide on Armenia was no easy task "Kurkjian and I researched and wrote everything over the course of more than a decade while each of us was living and working – and traveling – throughout the region" stated Karanian. "We tell it like it is, the inside scoop."
However, the hard work paid off. Their first book, Edge of Time: Traveling in Armenia and Karabagh, was published in June 2001 and was the first-ever guidebook on Armenia. Having sold out of the first edition after just one year, Karanian and Kurkjian published a second edition in 2002.
With their travel guide increasing the desire to tour Armenia, and tourism in Armenia increasing in general, Karanian and Kurkjian decided that their guide book needed to increase as well as cover the changes in Armenia. In 2004, the authors released the Stone Garden Guide, filled with over 304 pages of photos and text.
And, due to the changes in Armenia and the desire to travel there by tourists even since 2004, a second edition of the Stone Garden Guide was recently released in September 2006.
"It's got a completely updated text, which has nearly twice as many photographs," says Karanian. "We're no longer the only book for Armenia, but we are still the best, the biggest, and the most comprehensive."
During his presentation Karanian showed photos of current day Armenia & Karabagh. He showed both "clichè" photos of churches and "new day" photos of people at the pool. One of the things Karanian wanted to do with his travel book is show that Armenia is no longer the impoverished country it once was.
"Armenia has improved significantly, even in the past two years," says Karanian "Roads that were rough and bumpy that we didn't recommend in the first edition are now paved and perfectly safe." Of course there are still poor communities and villages. But there are also cities like Yerevan that have running water and electricity. "Yerevan is a growing city. There are street cafes and shops everywhere you go," said Karanian.
Karanian feels that it is important to highlight Armenia in a positive light. "Armenia is a beautiful country with rich history. It deserves to be spotlighted in a way that encourages people to travel there."
However, although Karanian wants to boast about Armenia, his travel guide is very honest and straightforward. "If something isn't worth traveling to see, we say it. I think it's important for a guidebook to tell a reader what not to see, as well as what they should see."
Karanian's presentation gave the audience a sense of Armenia in present day. Many of the people in the audience have never been to Armenia or have not been for several years. Through the photos that Karanian showed, he was able to shed new light on Armenia and encourage the audience to travel there.
Karanian hopes that his guidebook will inspire people not only to travel to Armenia, but to change their preconceived perceptions of Armenia as well.
For more information about Matthew Karanian and the Stone Garden Guide, please visit www.stonegardenproductions.com.
Barlow Der Mugrdechian
Advisor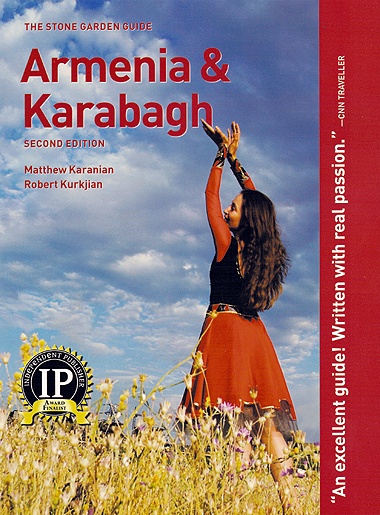 Armenia has become a travel destination for visitors from throughout the world. Only a few years ago, before 2001, less than 25,000 tourists a year visited the former Republic of Armenia, which gained its independence in 1991. Last year, more than 200,000 tourists visited this beautiful country, to see both the historical (churches, monasteries) and the contemporary (museums, galleries, and restaurants).
According to the authors, "the book is a product of 12 years of research by the authors, who each have lived, worked, and traveled in Armenia and Karabagh, since 1995." This book is a labor of love, reflecting the input of these two authors, who have put much of themselves into the book, providing the reader with a rich mine of information on Armenia.
The anticipation of travel is one of the most enjoyable parts of any trip. Preparing an itinerary, thinking about what new sights one will see, all provides a sense of heightened excitement for the visitor to any foreign country. Armenia & Karabagh helps to enhance the travel experience with the carefully researched historical and cultural background for each area covered.
Armenia and Karabagh is divided into nine major sections with an introduction to each: Land and People; Essentials; Yerevan; Central Armenia; Lake Sevan; Northeast Armenia; Northwest Armenia; Southern Armenia; and Nagorno-Karabagh.
Twenty-six maps illustrate the various regions of Armenia, providing a rich context for discovering the country. Information on travel to Armenia, hotels to stay, and restaurants to eat at, supplement each section.
Authors Matthew Karanian and Robert Kurkjian also have a special love and respect for the natural beauty of Armenia and for the preservation and stewardship of Armenia's natural resources. Their keen appreciation for the ecology of the country is expressed in every page of this handsome book.
Armenia and Karabagh also provides a thorough historical and social perspective on Armenia. The authors utilized contributions from various noted scholars to give a historical view of Armenia that is both concise and insightful.
A handy glossary give the reader useful phrases in Armenian. The guide-book is easy to navigate and a pleasure to simply thumb through, since it is filled with evocative and beautiful photographs, taken by the authors.
This book is highly recommended for any traveler to Armenia. It is a publication that makes the reader aware of the wonders of an ancient land. To read this book is to guarantee a trip to Armenia and Karabagh.