Suren Oganessian
Staff Writer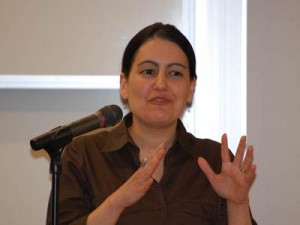 Lory Bedikian, poet and author of The Book of Lamenting, came to Fresno State on February 17, to read poems from her new book in an event sponsored by Fresno State's Creative Writing MFA Program and the Fresno Poet's Association. The Armenian Studies Program also supported her appearance in Fresno.
Among those in attendance were United States poet laureate Philip Levine, as well as Fresno State students and faculty.
Bedikian is an award-winning poet, as The Book of Lamenting won the 2010 Philip Levine Prize for Poetry. She graduated from UCLA earning a BA in Creative Writing, Poetry, and earned her MFA in Poetry at the University of Oregon. Her poetry has earned her a plethora of other awards as well, and she currently teaches poetry workshops in Los Angeles, where she resides with her husband.
Bedikian's poetry illustrates the experience of immigrants coming to California from the Middle East. She was born in San Francisco, but grew up in Cupertino, and also lived for a brief time in Los Angeles. She writes about her family and her experiences returning to Armenia and Lebanon when she was younger, as well as living in California. She began writing poetry at the tender age of 8. She knew from then on that poetry was a permanent part of her life, no matter what.
Her poetry sometimes contains vivid, surreal imagery; while some of her colleagues in her Graduate program criticized her poem "Beyond the Mouth" for being "unbelievable," in its metaphorical imagery, Bedikian said that she gained the courage to write "unbelievable" poetry by becoming inspired by other poets who wrote similarly.
Bedikian said she enjoys visiting Fresno, calling the city "wonderful and underrated," and commenting that "the land breathes easier here." When she read her poem "What Floods the Hour," with references to William Saroyan, she said she was proud to finally read the poem in a place where people were familiar with his work.
Her advice to fellow writers and aspiring writers was to "Read, and after you're done, read some more." She also advised writers to listen to people and to their surroundings. "There is inspiration to be found all around you."