Sarah Soghomonian
Staff Writer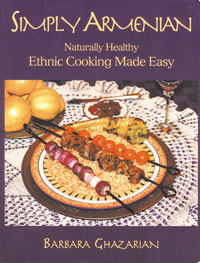 Hungry? Craving delicious, authentic, traditional Armenian food? Well, don't run to the closest Armenian deli, be adventurous, make your favorite Armenian foods from scratch. Simply Armenian: Naturally Healthy Ethnic Cooing Made Easy, a new cookbook by Barbara Ghazarian, is here to guide you through the steps to making delicious Armenian delicacies.
Simply Armenian contains every recipe you can think of and is divided into sections and subcategorizes for your convenience.
The first section is titled "Appetizers and Spreads" and has specific areas focusing on those two subjects.
Under "Appetizers" you will find recipes for Armenian staples, such as, Rice-Stuffed Grape Leaves (Yalanchi) and Pickle Fresh Vegetables (Tourshi) along with less traditional, but still Middle-Eastern influenced items, such as, Feta Cheese-Topped Eggplant Rounds and Toasted Pumpkin Seed and Pine Nuts. Under "Spreads" one finds recipes for Hummus, Zesty White Bean Dip, and Black Olive and Yogurt Cheese Spread, to name a few.
After indulging in hors d'oeuvres, one is ready for the first course. Under the section titled "First Courses" one finds subcategorizes dedicated to Grains and Vegetables, Salads, Soups and Stews, and Stuffed Pastries (Boreks). Grains and Vegetables offers recipes from Bulgur and Rice Pilaf to egg plant dishes to a spinach casserole recipe. There are salad recipes titled Parsley Salad (Tabouli), Cracked Wheat-Tomato Salad (Eetch), and Four-Bean Salad. Recipes for Lentil and Swiss Chard Soup, Tomato and Bulgur Soup, and Lamb and Rhubarb Stew are found in the Soups and Stews sub-category. Craving Cheese Borek or Spinach Borek? You can find these and other Borek recipes in the stuffed Pastries (Boreks) sub-category.
Ready for the main course? What will it be? Lamb, Pork, Fowl, or Fish? You will find recipe featuring these foods under "Main Courses." The sub-category, Lamb, features recipes for Shish Kebab, Armenian Tartare (Kheyma), and Lamb-Stuffed Grape Leaves (Sarma) and many others that are sure to fill your tummy.
There is a section of the cookbook titled "Armenian Basics." It is divided into the following topics:
Flatbreads, Loaf Breads, Pizzas, Tea Breads, Eggs Sauces, Dairy Basics and Drinks. So, if you want to make your own Armenian Cracker Bread, Lahmejun, Choreg, Madzoon or Tahn, Simply Armenian is where to turn.
Everyone loves dessert! Recipes for Cakes and Pastries; Cookies; Fruits, Spreads and Candy; and Quince lie in the Sweets category. Who needs the bakery? Make your own Paklava!
Simply Armenian: Naturally Healthy Ethnic Cooking Made Easy is by Barbara Ghazarian of Hartford, Connecticut. She loves to cook and hopes to have created an easy way for cooking ethnic cuisine.
Ghazarian states, "The journey into a foreign cuisine is not necessarily an easy one. Armenian cooking can be intimidating for the novice."
After looking over Simply Armenian, I can tell you the recipes are laid out in away that seems to be easy to follow and that is important no matter how experienced a chief you are.
So, be adventurous; take Armenian Cuisine head on. It will be fun, filling and will make Grandma proud!
Happy eating!