Staff Report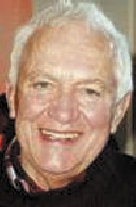 Richard Elbrecht, a lawyer who photographed historic Armenian churches in Turkey, died May 26 in Fresno. He was in Fresno to meet with faculty of the Armenian Studies Program about creating a Web page for a photographic project when he died, at the age of 74, of a heart arrhythmia at his hotel.
He spent two decades with his wife Anne photographing historic Armenian churches and cathedrals in eastern Turkey (historicArmenia). During nine trips, they captured images of the rich heritage of a nation nearly destroyed by the Armenian Genocide. In December (see Hye Sharzhoom, Vol. 29, No. 2, page 1), Mr. and Mrs. Elbrecht agreed to donate their collection of 157 prints to the Armenian Studies Program at California State University, Fresno.
"This collection is an invaluable gift," said Barlow Der Mugrdechian, coordinator of the Armenian Studies Program at Fresno State. "It will make the Program the foremost archive of these historic churches anywhere in the world and accessible to everyone on the Internet."
During a vacation trip to Turkey in 1987, Mr. Elbrecht and his wife learned many Armenian churches had been abandoned since the 1915 genocide. The couple began a mission to document the ancient religious monuments, traveling back roads without guides to photograph churches built as early as the 7th century.
The images were widely exhibited at Armenian churches in California and during international conferences of scholars on historic Armenia at UCLA.
"Richard was an extroverted, super-high-energy person," Anne Elbrecht said. "He wanted to start back into photography, and this was a project we decided to do. It was a way to help others."
Elbrecht expressed his concern for others with a firm grasp of the law, a passion for preserving cultural treasures and tireless dedication. He championed the rights of consumers and small businesses as a lawyer, including 27 years heading the legal services unit at the California Department of Consumer Affairs.
In lieu of flowers, donations may be made to the Armenian Studies Program at California State University, Fresno, 5245 N. Backer Ave., PB4, Fresno, CA 93740-8001.