Evelyn Demirchian
Staff Writer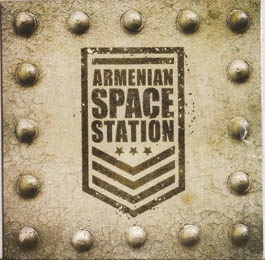 A relatively new rock band has been creating some major underground waves in Southern California this past year. Armenian Space Station, headed up by friends Greg Hosharian and Barrett Yeretsian, with Phil Trujeque and Clint Feddersen, is a hard rock group that takes an interesting twist on metal by combining classical music and Armenian melodies.
Hosharian (piano) and Yeretsian (drums), already established and talented performers in their own right, were looking to do a joint project focusing on video game and television music when they had the idea that their songs could become performance pieces as part of an instrumental group. In early fall of 2009, they added on Trujeque (guitar) and Feddersen (bass) to complete the band.
I caught up with Hosharian and Yeretsian the day after their sold-out performance at The Roxy Theatre in Los Angeles, on April 10, 2010. Co-headlining with West-Indian Girl, Armenian Space Station played their 4-song set and blew away a crowd of rock fans, curious newcomers, friends, and members of their underground street team. The group was still on a high from their show the previous night when we met up at a Burbank coffee shop to discuss their backgrounds and the history of the band.
Hosharian was trained on classical piano and has his Masters Degree from Cal. State University, Northridge. Yeretsian has been playing drums for nearly 20 years, since he picked up the duhol (Armenian hand drum) at the age of 12. Both are industry professionals who have worked as producers and have been in various other bands in the LA-area.
Armenian Space Station, that's a very interesting name, where did you guys get the idea for it?
Hosharian: We had to think up of a name, and when we were tossing around ideas we started playing around with Armenian…and it just sort of came out of nowhere and stuck.
Yeretsian: It just sounded funny…because really when would a tiny country like Armenia have its own space station? It was just ironic, sounded good and there we had it!
When was your first performance as a group? Have you been touring?
Yeretsian: October 28, 2009 at Yerevan's Sunchild Festival. It's this environmental gathering promoting green technology….Our first and only performance before The Roxy last night.
No way, how did that go? And how has your fan base grown so large since then?
Hosharian: It was great. There were over 1,000 people in the crowd.
Yeretsian: Much thanks goes out to our street team leader, Ani (Khodaverdian), who's really promoted our band and helped get our name out there.
Would you be interested in touring through Fresno?
Hosharian: Yes! I have family there and I've visited before, I like it. If there's a venue that'll support us we'll be there!
Yeretsian: I have cousins in Fresno, and I think we'd really like to come through.
Hosharian: It could be part of a Californian tour, from LA to Fresno to San Francisco.
For now, Armenian Space Station is working on songs for a new record and they are looking for new venues to play. You can find their self-titled album online at www.armenianspacestation.com as well look them up on Facebook and Twitter.