Hagop Ohanessian
Staff Writer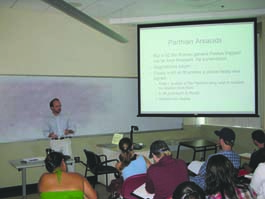 Armenian Studies/History 108A, a survey of ancient and medieval Armenian history, is one of the Armenian courses offered this semester at Fresno State. A diverse group of students who are interested in learning about Armenian history have enrolled in the course, part of a two semester survey of Armenian history offered through the Armenian Studies Program. According to the catalog description this course examines, "The History of Armenia and Armenians from prehistoric times to the beginning of the modern era." This semester Dr. Sergio La Porta, Haig and Isabel Berberian Professor of Armenian Studies, is teaching the course.
A Concise History of the Armenian People by Dr. George Bournoutian is the textbook. I had the opportunity to sit in on Professor La Porta's class as he introduced his students to the different aspects of Armenian history, specifically about Armenia and her neighbors who were often major powers.
This course fulfills one of the requirements for the Armenian Studies Minor. There is a open atmosphere in the class, where there is always an opportunity for each student to learn something new. As I surveyed the class, some students were planning on pursuing an Armenian Studies Minor, while others were just curious and wanted to learn about Armenians.
Shawn Stephens, a senior majoring in Mathematics stated, "I am interested in learning the histories of other cultures," especially since he had studied other cultures. It is truly great to be able to see the excitement in students who are eager to learn. Stephens is also interested in more contemporary topics such as Armenian-Turkish relations and the Armenian Genocide.
Knar Mekhitarian, a senior majoring in Business Accounting and minoring in Armenian Studies said, "I especially enjoy the pre-Christian era of Armenian history and the influence of other nations on Armenia." This is interesting because prior to accepting Christianity, Armenia was Zoroastrian.
Andrew Antaramian, a senior majoring in International Business stated, "I have enjoyed learning about the reign of Tigran the Great and his contributions to Armenia." Armenia during Tigran's reign achieved its largest geographical area, stretching from sea to sea.
Students have definitely become interested in the class. The many different questions asked by students is an indication of how engaged they are in the course.
Armenian Studies 108B/History 108B will be offered next semester so be on the lookout when planning your classes for the Spring 2010 semester.