Staff Report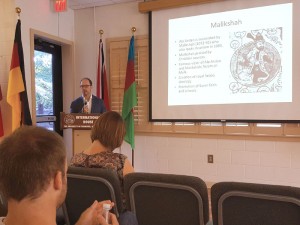 Dr. Sergio La Porta was invited to be a Lindsay Young Distinguished Visiting Senior Scholar in the Marco Institute for Medieval and Renaissance Studies at the University of Tennessee, Knoxville in Fall of 2016. Dr. La Porta visited the University from September 11-17.
While there, he gave a class for undergraduates in the Religious Studies program; led a guided reading for graduate students in the Department of History; and presented a public lecture.
In the undergraduate class, Dr. La Porta introduced students to the narrative of Agathangelos and its presentation on the conversion of the Arsacids in Armenia.
In his guided reading, he shared an essay that he just completed on the relationship between history and prophecy in two Armenian historiographical sources, the History of Aristakes Lastivertts'i and the Chronicle of Matthew of Edessa.
Dr. La Porta's public lecture was devoted to religious conflict and competition in 12th-13th century Anatolia and looked at several Armenian sources that shed light on interactions between different ethno-religious communities in eastern Anatolia.
Dr. La Porta was incredibly honored to have received the fellowship and thoroughly enjoyed his stay in Knoxville.
He was particularly excited that he had an opportunity to meet every day with graduate students in the History Department, whom he found engaging and working on interesting topics.
Dr. La Porta also worked with Professor Tom Burman, the current director of the Marco Institute, and Dr. Alison Vacca, a specialist in the history of the Middle East at UT Knoxville, on a research proposal for a collaborative project.
Dr. La Porta was very impressed with the collegial and interdisciplinary atmosphere of the Marco Institute and the variety of research its faculty was engaged in.
Dr. La Porta added that he also enjoyed some very good meals and a beautiful hike through the Smoky Mountains.