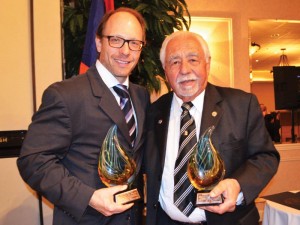 Staff Report
On Saturday, April 16, Dr. Sergio La Porta was honored as one of the recipients of the 2016 "Men of the Year Award" by the Knights of Vartan Yeprad Lodge and the Daughters of Vartan Alidz Otyag. He shared this distinction with renowned oud player Mr. Richard Hagopian.
The award was presented in commemoration of the 100th anniversary of the Brotherhood of the Knights of Vartan. In addition, County Supervisor Henry Perea, on behalf of the Fresno County Board of Supervisors, presented Dr. La Porta and Mr. Hagopian with a Resolution attesting to their accomplishments.
The sold-out event, replete with music and dancing, was held at Pardini's Catering and Banquets and was coordinated by Dr. Dennis and Rita Shamlian.
Proceeds from the event will help sponsor a concert during the Fresno Philharmonic Music Director Search Season 2016-2017, led by conductor Aram Demirjian, in February 2017.
Dr. La Porta said he was moved and humbled by the award. "I am truly grateful for this honor from the Knights and Daughters of Vartan, especially as they have contributed so much to the preservation and development of Armenian culture. And to receive it alongside someone as talented as Mr. Hagopian is very special for me."
Dr. La Porta remarked that he was also excited to learn that the evening would help support Mr. Demirjian's appearance in 2017 and that he was looking forward to the concert.
Congratulations were gi-ven during the evening by Grand Commander Steve Kradjian, Commander Marshall Moushigian, and Honorary Consul of the Republic of Armenia, Berj Apkarian.