Staff Report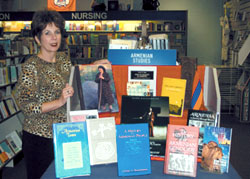 Janet Van Wyhe and the Kennel Bookstore staff are very excited about the new Armenian section opened recently in the Fresno State Kennel Bookstore. Van Wyhe, who manages the general book section of the Bookstore, says "There is much to learn about a group of people in this city who play an important role in the things that make Fresno a great place to live, work and enjoy family. The Kennel Bookstore staff has been working cooperatively with the Armenian Studies Program on campus and we especially appreciate the advice and enthusiasm of Barlow Der Mugrdechian of the Armenian Studies Program in setting up the new section."
Fresno State and the community it serves are composed of a diverse group of people. The Kennel Bookstore wants to supply the needs of as many students, faculty, staff, and the general public as possible. The Valley is now one of the most diverse areas in California and the Bookstore would like to help share the heritage of all of its neighbors.
Kennel Bookstore Director Ron Durham arrived on the job in Fresno about a year ago. He learned early on that Fresno has a large Armenian population . He wanted to learn more about their culture and was surprised to learn there was very little information in the General Book Department on that subject. It was then the staff started the groundwork for opening the section. This is the beginning of the endeavor to share the rich cultures that inhabit the San Joaquin Valley area.
What is in the new section? There is a sprinkling of subjects, such as books on Armenian history, the Armenian Genocide, language, drama, cookbooks, novels, and poetry. Van Wyhe expects that the subject matter will be expanded as time passes.
The new section fits in well with the Kennel Bookstore, as their goal is to facilitate learning. The Bookstore can help educate those who wish to learn more about Armenian people and to carry titles that will interest Armenians and non-Armenians alike. New titles have been spotlighted to make customers aware of the new arrivals and it is anticipated that this will be the cornerstone collection of a very diverse and informative department within the Kennel Bookstore. The bookstore aspires to become the source for information on all cultures, especially those of the San Joaquin Valley.
The Kennel Bookstore serves not only the campus community but also the entire city of Fresno and the surrounding area. The Bookstore sponsors many conferences and special events throughout the year and will reach people from all over who come to the Fresno State campus.
An official opening for the Armenian section and a book signing will be held later this Fall semester.
The Kennel Bookstore is open Monday through Thursday 7:45 – 7:15, Friday 7:45-5:00 and Saturday 10:00 – 3:00. There is relaxed parking on Saturdays. The main bookstore number is 559-278-4062 and the general book department can be reached directly at 559-278-4286. There is a toll free number 800-996-2411. The Kennel Bookstore is always happy to take special orders for books over the phone or by email kennel@csufresno.edu.