Hakop Tataryan
Editor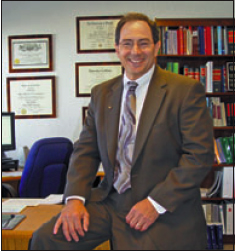 When Craig School of Business Dean Karen Bowerman accepted a position as Dean of Public Administration at California State University, San Bernardino, it made possible the appointment of Associate Dean Garo Kalfayan to the available position. After being a faculty member in the Department of Accountancy at CSU Fresno for seventeen years, Kalfayan was selected for the prestigious position for the 2004-2005 academic year, effective July 1.
Kalfayan's road to the Dean's position included working at law and accounting firms. During his tenure at Fresno State, Kalfayan has published articles in the CPA Journal and in The Tax Advisor, and has co-authored the textbook Mastering Depreciation.
Kalfayan earned his Bachelor of Science degree in Accounting from the University of California, Berkeley. In 1983, he earned his Juris Doctorate from the University of California, Los Angeles. After working for a top valley law firm, he went on to the University of Florida where he earned his LLP (Doctorate in Taxation Law). He was offered a job at the University of Florida, but he declined and returned to the valley to be near his family. We Armenians certainly know a thing or two about family obligations.
Kalfayan's grandfather came to the United States in the late 1930s, and served as Parish Priest at the St.Mary Armenian Church in Yettem.Kalfayan grew up in Visalia and graduated from Mt. Whitney High School as valedictorian, and over the course of his life developed a love for the valley. So it is no surprise that he returned to work and raise his family.
Kalfayan's life endeavors have earned him the interim position of Dean of the Craig School of Business. The valley has seen its share of prominent Armenians, from Jerry Tarkanian to William Saroyan, and Kirk Kerkorian. "It is testament to the Armenians who came to this valley with nothing, that in one generation, they have risen to such a level of respect and prominence," said Kalfayan. Indeed, we Armenians seem to have an inherent work ethic described best by U.S. Ambassador Henry Morgenthau, Jr. in his memoirs.
Rest assured that Dean Kalfayan will significantly contribute to an already vibrant program. "I believe
that anyone in a leadership position in the community, who has an "ian" or "yan" at the end of their name, has an additional responsibility to conduct themselves with dignity and high moral character." We will be expecting nothing less from this great man. This year Armenian business students will have a little extra motivation to do well in school-I know I will.