Tamara Karakashian
Staff Writer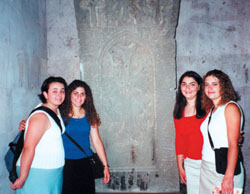 Yerevan. Khor Virap. Etchmiadzin. In August 2000, these were merely locations on a map of our homeland. In July 2001 these historical places became part of thousands of young peoples' lasting memories. The Armenian Church Youth Organization–Western Diocese (ACYO–WD) sponsored a pilgrimage to Armenia during this Jubilee year, marking the 1700th anniversary of the proclamation of Christianity as the State Religion of Armenia. The 1700th Committee of the ACYO was diligent in organizing the pilgrimage down to the last detail. The youth of Armenia, having never hosted such a large amount of people, were in for a treat! The volunteers who organized the pilgrimage in Armenia accommodated pilgrims by coordinating day trips, providing lodging and meals during the stay, and even giving out complementary hats, backpacks, and t-shirts.
Over 100 youth from the Western Diocese journeyed to Armenia in search of a new direction–toward a feeling of unification. We met Armenian youth from all corners of the world–Argentina, France, Russia, and, of course, Armenia. Four students from Fresno State experienced this amazing pilgrimage, July 6-27, to our Motherland.
Carina Karakashian, a freshman, had been to Armenia with her family when she was a child; however her experiences during the pilgrimage this year were vastly different. Her opinions had changed between the two trips because she had become much more connected with the Armenian nation.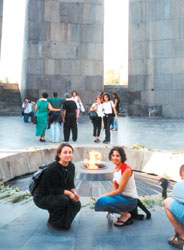 Carina is taking Professor Hewsen's "Conversion of Armenia to Christianity" class this semester. She said that the pilgrimage to Armenia this summer helps her in this class, because she is able to associate the places she visited during the pilgrimage with the historic locations she is discussing in her class.
The moment at which Carina felt most connected to her faith was at the beginning of the three-day pilgrimage when, "I was with everyone on their knees singing Der Voghormia (Lord, Have Mercy). We were all there for the same purpose: bringing ourselves closer to God and our Armenian Orthodox faith."
Days started early and ended early (in the morning)! With each day came 3 hours on a bus–but we endured it. We cherished it. Our hotel at Lake Sevan made us aware of the true, if not worse, living conditions in the entire country of Armenia. We opened our hearts and filled ourselves with prayer each day as we visited different dioceses of Armenia.
For sophomore Erica Ananian, the pilgrimage "sparked my soul to reach out to my culture and heritage." This is why Erica has taken a step towards identifying more with the culture. In fact, she is now enrolled in an elementary Armenian Language class with Professor Der Mugrdechian. She feels connected to her Armenian culture and has a strong passion to learn everything about it.
As we journeyed throughout the country, we were welcomed with true Armenian hospitality. Each diocese we visited–Aragatzotn, Kotayk, Shirak, Syunik–welcomed us with traditional Armenian songs, dancers, and performers. We will all have the memories embedded in our minds of little angels dancing in front of Sardarabad, and the people in Khor Virap village encouraging and enlightening us during our three-day pilgrimage from Khor Virap to Etchmiadzin.
Our three-day pilgrimage, July 14-16 began at dusk on bended knee at the monastery of Khor Virap (deep pit) where St. Gregory was held prisoner in the pit for 13 years. Pilgrims from all over the world–about 5,000 youth in all–walked side by side, uniting the Armenians of the Diaspora and those of the Homeland. Our arduous trip to the Mother Cathedral of Holy Etchmiadzin was filled with feelings of exhaustion and excitement. Catholicos Karekin II greeted the pilgrims with words of praise and delight. As the sun rose, groups of pilgrims slipped into a well needed nap. Badarak was celebrated by His Eminence Archbishop Hovnan Derderian, primate of the Diocese of Canada, along with 10 altar servers from the Western Diocese.
Senior Tamara Enfiedjian commented on the economic life of the people in Armenia. "Regardless of the conditions, and as bad as it may seem to us, they [Armenians] are content with what they have. Material things are unimportant to them; they cherish the fact that they have land to call their own while they celebrate 1700 years of Christianity." When asked if they would return to Armenia some day, Erica, Sandra, and Carina enthusiastically exclaimed, "YES!" The same is true for myself!
Sites such as Tzitzernakabert, Mt. Ararat, Khor Virap, and the Musical Program at the Youth Center of Nork will remain in our hearts and minds forever. This pilgrimage has had a profound effect on every member of the youth who participated. Each Armenian youth should experience this emotionally moving visit to our homeland; it will strengthen their pride in Armenian culture and their orthodox faith.