Staff Report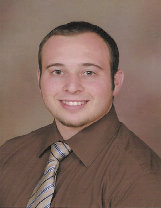 Name: Sevag Jierian
Major: International Business
Minor: Armenian Studies
Why did you pursue an Armenian Studies Minor?
I pursued a minor in Armenian Studies because I have always had a strong interest in my culture and tradition. I thought that it would make me a better Armenian and help me understand a little more about our beliefs and traditions. Growing up in a traditional Armenian home, I have felt that it is my responsibility to learn as much as I can about our heritage—that way I can pass it on to others as I get older.
What Armenian Studies class or classes influenced you the most and why?
The Armenian Studies course that influenced me the most is the Armenian Studies 20 class. That class deals with the Arts of Armenia and goes into depth about many aspects of Armenian Art. Going into the class, I thought I knew quite a bit about Armenian Art but I came to realize that I was wrong. I learned about some of the oldest art in the world and how to appreciate art everywhere we go.
How has taking Armenian studies courses shaped your college education?
Taking Armenian Studies courses has really helped me mature throughout my college years. I have taken more pride in learning and educating myself, and have used it as an opportunity of a lifetime. Taking these classes also helped me cope with my other classes.
What was your favorite college experience?
My favorite college experience is when I studied abroad for a semester in the Netherlands. I had the experience of a lifetime and I thank my parents and the university for giving me the opportunity to go to Europe. I had the opportunity to experience living on my own on the other side of the world and see what life is really about, holding my own responsibilities. I really came back, for the better, a different person and have set higher goals to become successful in life. Also going to Armenia in the summer of 2005 with the AYF Youth Corps really helped me become a better person in my early college years. I was there for six weeks and helped rebuild a youth center in the town of Vayk. It truly opened my eyes about how people live in other countries of the world and made me realize what a beautiful country and group of people we Armenians have.
What are your future plans?
After graduation, I plan on starting my career in the field of International Business. I realize that things we want do not come right away so I will wait and see what opportunities become available in the near future, as well as seek possible careers. I also plan on staying active within the Armenian community, and continue helping out organizations such as AYF and Homenetmen, as well as helping out the Church. Overall, my college experience is one that I can never forget.