Armen Arikian
Staff Writer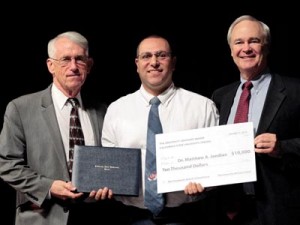 Those involved in the Armenian community often feel a sense of pride when they hear that a fellow Armenian has won an award or been recognized for an accomplishment. On January 11, 2012 they had one more reason, as Dr. Matthew Jendian was the recipient of Fresno State's 2012 Presidential Award of Excellence.
The President's Award of Excellence, established in Fall 2001, recognizes faculty members who have "demonstrated integrity, leadership, and a commitment to the university and the community, as exemplified by President Welty." The University Advisory Board reviewed the candidates for the award and made the decision to select Professor Jendian as the 2012 recipient.
Jendian, a Fresno State alumnus, earned a Bachelor of Arts in Sociology with minors in Armenian Studies and Psychology. As a student he was an active member of the Armenian Students Organization, as well as a staff writer for Hye Sharzhoom.
At the Spring faculty and staff assembly, where the award was announced, Dr. Jendian stated that as honored as he was, he knew that "there are many others on our campus who are equally or even more worthy" of the award. Jendian believes that "awards like this are bigger than the individual being recognized," emphasizing that his achievements and projects would have not been possible without the support of his wife Pam, his parents, his siblings, his in-laws, his grandparents, and several of his colleagues and mentors.
Jendian is the author of Becoming an Armenian, Remaining Ethnic: The Case of Armenian Americans in Central California (2008). He is currently writing another book, with his siblings, on how his family survived the Armenian Genocide, and how they maintained their Armenian identity in the United States.
Professor Jendian is the founding director of Fresno State's Humanics Program, which prepares and certifies students to strengthen and lead nonprofit organizations. Jendian is enthusiastic about a recently established grant in the Humanics Program, the Phillip T. Manoogian Philanthropic Award. This award will give students of the Program the opportunity to donate $3,000 to their choice of community benefit organizations in the field of education. The award, named in honor of Jendian's father-in law who was professionally involved with the Fresno Unified for 35 years, will be presented on May 14, 2012.
Grateful to those who helped him with all of his projects—through past, present, and future contributions—Jendian is inspired by his students. "Many of them tell me that I inspire them, but I keep reminding them that they are inspiring me to work as hard as I do for the benefit of my university and my community."