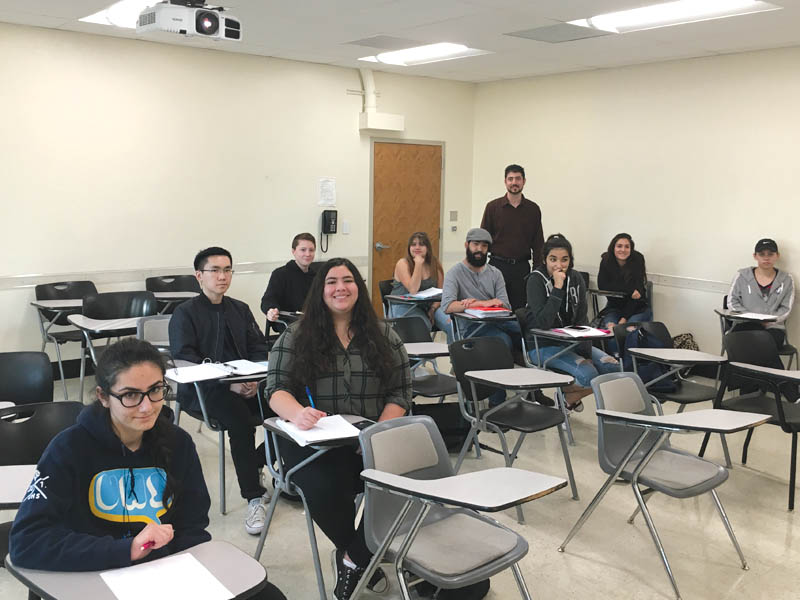 Kara Statler and
Arthur Khatchatrian
Staff Writers
This semester Professor Hagop Ohanessian is teaching Armenian Studies 10, Introduction to Armenian Studies, a class dedicated to giving Armenian and non-Armenian students the opportunity to become more familiar with Armenian culture and history. This introductory course covers topics from the conversion of the Armenian people to Christianity, to learning about Armenians in Fresno.
Prof. Ohanessian enjoys teaching the course because he has always been intrigued about the Armenian Diaspora and the contributions of Armenians in countries around the world. His Master's degree thesis was a survey of Armenian women in the United States in the 20th century, focusing on the Armenian Relief Society founded in 1910.
Ohanessian took the Armenian Studies 10 course when he was a student at Fresno State and he later graduated with a Minor in Armenian Studies.
"My own personal experience makes me more aware of what is happening in the world and so I want to help students make a similar connection," said Ohanessian. "I enjoy engaging students in discussion and I like to hear student perspectives."
Students are enthusiastic about the course and enjoy learning about Armenia and its people. They read books, engage in discussions, and watch documentaries to help them better understand Armenian culture and identity.
The Armenian Genocide is a topic which is especially intriguing for students, because many of them hear about it for the first time in this course.
For Sociology major Alejandra Garcia the Genocide was the reason for her curiosity in the course. "I think it is interesting hearing about how people struggled during the Genocide and all of the issues that came with it."
According to Garcia, courses such as Armenian Studies 10 are important because "they give students an opportunity to learn about other cultures besides their own."
The favorite part of the course for Genevieve Nakimbugwe are the assigned readings from Armenian-American authors. "I didn't know anything about the Armenians before I took this class and I am learning a lot about Armenian culture." She also enjoys the new friends she has made in the class.
The students in the course reflect the diversity of the Fresno State campus. Many are interested in learning about the social experiences of the Armenians and especially learning about the prejudice and discrimination that the Armenians faced in Fresno.
Moné Harrison's interest was sparked because she had many Armenian friends, so she is happy to learn about the language and culture.
Harrison had previously taken a course on "Masterpieces of Armenian Culture," and that influenced her to pursue a Minor in Armenian Studies.
Armenian Studies 10 is a core course in the Armenian Studies Program, which inspires many students to pursue the Minor.