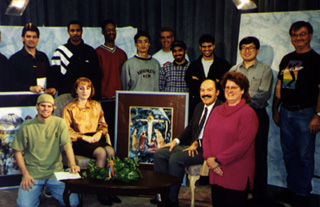 Staff Report
hye talk, a half-hour television program produced by the Armenian Studies Program of Fresno State began its second year of broadcasting in November. hye talk airs on Thursdays from 8:30-9:00 p.m. and on Fridays from 6:00-6:30 p.m. on Continental Cablevision Channel 4. New shows will be broadcast every week through the months of December and January 1997.
Barlow Der Mugrdechian of the Armenian Studies Program is the host for hye talk. Der Mugrdechian has been involved with the Armenian Studies Program for the past decade as an instructor. hye talk features a variety of guests who discuss local, national, and international issues of interest to Armenians and the community in general.
Four new shows have been taped and will be broadcast. The season premiere featured the Very Rev. Fr. Sasoon V. Zumrookhdian, Pastor of St. Paul Armenian Church in Fresno, who recently returned from Armenia where he and a group of pilgrims from Fresno attended the blessing of the Holy Muron (Holy Oil) ceremony in Etchmiadzin, Armenia. His Holiness Karekin I, Catholicos of All Armenians presided over the centuries old service. Fr. Zumrookhdian had the honor of holding the Right Hand (relic) of St. Gregory and Mr. Vahan Chamlian of Fresno was the Godfather of the ceremony. Footage from the ceremony will be aired as part of the hye talk show.
Mr. Seth Atamian, newly appointed principal of the Armenian Community School of Fresno, is the second guest. Atamian was hired to lead the school which has now begun its twentieth year of activity. Atamian discusses the current activities at the school as well as its future goals.
Dr. Bill Rice, Professor of Marketing at Fresno State, brings his views on an Armenian agriculture training program which took place at Fresno State in October of 1996. Eleven farmers from Armenia were brought to the United States to participate in a training program which aimed to familiarize the farmers with marketing techniques. Dr. Rice, who was Outstanding Professor at Fresno State directed the Fresno State project along with Dr. Bill Mallios of the School of Business.
Sona Atoian, an artist from Armenia, has opened the Fresno Art Institute. The Institute is open to the public and provides art instruction. Atoian, who is a noted artist, is the main instructor of the Institute. She brings some of her own works on the show and also discusses her new venture.
hye talk is a production of the Armenian Studies Program in conjunction with the Academic Innovation Center of Fresno State and INTERSEC. Comments on the program can be sent to:
hye talk
c/o Armenian Studies Program, CSU Fresno,
5245 N. Backer Ave M/S 4
Fresno, CA 93740-8001