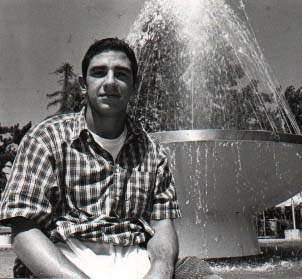 Staff Report
Occupation:  Student, Student Body President
Born: 8-24-76
Major: Business Administration – Accounting
Why I decided to run for ASB President:  I wanted to give back to my university and I saw this as a chance to do that.  There was a clear problem and I wanted to be part of the solution.
What I enjoy most about being ASB President:  When I can help people get more involved on campus and with the university.
My most embarrassing moment was:  When I fell twenty feet off a ski lift because I wasnít paying attention.  The lift stopped and everyone was laughing at me.
The person who had the most impact on my life:
That would be my father because he set a good example of what is right and wrong.
Favorite Movie:  Rocky I and II
Favorite Food:  Souborag (Armenian Cheese Pastry)
Favorite Vacation Activity:  Sleeping
Favorite Sport:  Basketball
Favorite Hobby:  Nintendo 64
Best Gift I ever received:  Life
Fondest Memory:  Watching my brother graduate from high school.
What I want to do when I finish my schooling:  Be the Commissioner of the NBA.
David Emerzian is a senior at California State University, Fresno.  He has been very active on-campus and is a member of the Armenian Students Organization.  Last May he was elected as President of the Associated Students Incorporated (Student Body).  Since then he has done a great job representing the students and getting them more involved.  David has a lot of ambition and is dedicated to accomplishing whatever responsibility he takes.  He is a wonderful representative, not only for Fresno State, but of the entire Armenian community.