Mari Koshkakaryan
Staff Writer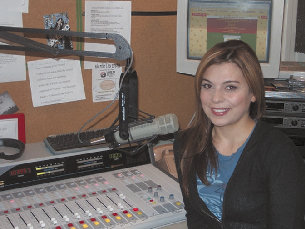 Music has the power to evoke emotions within us and cause us to feel connected somehow to the song. We often say, "This is my song" when we hear that special tune play on the radio. When people cannot seem to be understood by the people around them they turn to music to feel understood. Others like to turn to music to relax and create a peaceful environment, and others show their socializing talents by throwing a gathering with music playing in the background. Music is heard around the world and in many differing languages and styles and one of those different languages is Armenian.
Hye Oozh, the Armenian radio show that airs every Saturday morning, from 9:00AM to noon, from the Fresno State campus Speech Arts Building, has been in existence since the 1990s and has brought Armenian music to the community to keep them connected. Hye Oozh has provided a way to tie Armenians to their roots through the gift of music. Many dedicated Armenian students have taken the time and effort to create Hye Oozh and to keep the show alive for so many years. Hye Oozh is currently hosted by Tatevik Ekezian.
The show dedicates its three hours on-air to play Armenian music from famous musical artists such as Nune Yesayan, Alla Levonyan, and new pop singing group Shiker, along with old classics that target youth along with adults. Along with playing classical and modern day hits, the radio takes the time to announce new and upcoming events in the Armenian community. In order to make listeners feel connected the radio hosts an hour of dedication of songs, that enables a caller to send a message to a loved one through the remarkable voice of singers from their country of origin.
"It is important to keep Armenian music alive, so that not only adults and teens, but also children, can listen to and know Armenian music and keep our culture alive," said host Tatevik Ekezian.
Hye Oozh has not only been able to gain fans from every age group, but has received positive responses from non-Armenians as well. Armenians are able to tune in to hear songs in their native language while non-Armenian music fans tune in to explore the distinction that language can bring to music. The public is grateful for a radio show that unites Armenians and those who enjoy the gift of Armenian music.
"The public is proud and thankful for all the efforts and the work done," said Ekezian. Hye Oozh will continue its success and play the songs we love to hear as we wake up on Saturday mornings.
General Facts:
– Only Saturdays on 90.7FM
– On air from 9am to 12 noon
– 11am – Dedication/Request Hour
– Website: www.hyeoozhradio.com
– Email: hyekfsr@ymail.com
– Facebook: Hye Oozh Radio