By: Shayla Srabian
The fall semester for the Armenian Students Organization was filled with hard work and fun. The Armenian Students Organization held general meetings every two weeks.  The meetings consisted of an overview of the budget and upcoming events.  Most importantly, students were able to be together and work together.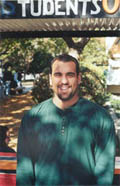 In the month of October there was a shish kebob sale, Halloween party, and two lectures hosted by the Armenian Studies Program. ASO members cooked the pilaf, made the salad and barbecued the shish kebob for the sale on Oct. 24.  The sale was held behind the Tower Theater as part of the Armenian Community School's Kef Time in the Tower District.  Not only was a traditional Armenian meal provided, but there was also Armenian dancing.  Richard Hagopian and his band played magically as people danced together.  Cory Zamora and her dancers entertained the audience with their colorful costumes and authentic Middle Eastern Belly Dancing.
The ASO ended the month of October with a Halloween party at Armen Karlozian's home.  It was a festive evening beginning with a visit to the Haunted House followed by the Halloween party. With the semester coming to a close students are busy getting ready for finals and the holidays.  The ASO will be having a party to celebrate Christmas and the end of the semester.
The ASO worked hard this semester.  They hoped to achieve student involvement and build friendships.  Chad Kirkorian, who is the president of the ASO this fall semester, led the organization with energy.   He is graduating this semester, we will miss him and wish him well.  Thank you for all your hard work and dedication.