By Marissa Isquierdo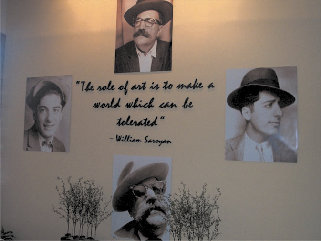 PBS Valley Public Television (KVPT-Fresno) aired a special one-hour documentary about the famed writer William Saroyan at 7PM on Sunday, August 31. Entitled "Saroyan," the film was produced in honor of the year long William Saroyan Centennial Celebration. Those who tuned in to see the documentary learned about Saroyan's life, including his childhood, about his hometown of Fresno, about highlights of his career, his marriage, and most importantly, the legacy of his writing. Saroyan's story was told through the eyes of his friends and fans and also featured never-before-seen photos and archival interviews of the man himself. Local TV personality John Wallace narrated the documentary.
"American writer…Armenian hero…This is Saroyan" –with these words viewers were transported into the life of William Saroyan.  Saroyan's life began on August 31, 1908 in Fresno, California. He was the youngest of four and his parents were Armenak and Takoohi Saroyan. Saroyan's parents had immigrated to California from Bitlis, Armenia in 1905. Saroyan endured a tough childhood, his family was poor, and his father died in 1911 when he was three years old.
Saroyan inherited his father's drive to be a writer. He learned to read so that he could write. As he said in an interview, "If Charles Dickens could do it, why couldn't William Saroyan?" Saroyan's experiences with people and of living in the city of Fresno as well as his Armenian heritage provided him with the foundation to write his stories. One point the documentary noted was that Saroyan's writing showed very little evidence of the discrimination Armenians experienced during his childhood. Herb Gold, an author and a friend of Saroyan, remarked that he was "very aware of the prejudice against Armenians," and added, "he wrote about them [Armenians] because he was them."
Saroyan's experiences in Fresno as well as his Armenian heritage were the inspirations he used to write his stories. In 1928 at the age of 20, he became a published writer. Six years later he achieved the success he desired when Story magazine published his short story, "The Daring Young Man on the Flying Trapeze." These works, as well as those that followed, such as My Name Is Aram, The Human Comedy, and his Broadway plays, "My Heart's in the Highlands," and "The Time of Your Life," were written in an unconventional way. Shakespearean actor, David Fox-Brenton stated that "his use of language was unstructured…he wrote in a new way." Herb Gold put it this way, "he wrote very much as he spoke."
The documentary also showed how Saroyan was an "enigma." He wanted success and recognition from the critics and the public, but he did not want to receive awards for his success. In 1940, he was awarded the Pulitzer Prize for Drama and turned it down, feeling the prize was "too commercial." This arrogance of his was also portrayed in his marriage. His only marriage was to Carol Marcus, whom he married twice and divorced twice. He had two children, Aram and Lucy. Roxie Moradian, a life-long friend of Saroyan's, said that "he was not a good husband, but he loved her, I think."  One of the notable absences in this documentary is that none of the interviews are from his family, including his son Aram.
The focus towards the end of the documentary shifted to Saroyan's talent as a music lyricist and artist. He wrote the 1951 chart-topping hit song "Come On-A My House," which was made famous by Rosemary Clooney. Saroyan wrote this song in collaboration with his cousin Ross Bagdasarian; "Come On-A My House" was written in Saroyan's friends, Frank and Roxie Moradian's home in Fresno. Besides writing music, Saroyan also liked to paint and draw. A number of his paintings and drawing are on odd pieces of paper, such as stationery, because he never liked to throw anything a way. Just like his written works, Saroyan had extraordinary vision in his paintings. "He was ahead of his time," commented David Fox-Brenton.
In his later years, Saroyan chose to live in Fresno, the place that had been the inspiration for many of his writings. During this time, Saroyan was often seen riding a bicycle around Fresno. He died in 1981.
The documentary "Saroyan" portrayed him as a man who desired success and who wanted to be liked for his works. He was stubborn and arrogant, self-confident and unconventional. Saroyan had grown up to be sure of himself and where he stood in the world. His roots in Fresno, as well as his family and Armenian heritage, shaped his vision as a writer, composer, artist, and as a man. The enduring legacy of William Saroyan is that his works continue to delight audiences.