By Arpik Paraghamian
Staff Writer
Stolen property and reparations to the survivors and descendants of those martyred during the Armenian Genocide of 1915 was the focus of a lecture by Hilmar Kaiser during his fourth visit to Fresno State on November 6, 2000.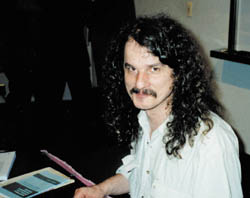 Kaiser, a doctoral candidate at the European University Institute in Florence, Italy, spent four years studying Turkish archives on this topic. Kaiser said he tried to collect all the information he possibly could before he was kicked out for his persistent visits in 1995.
Kaiser found not only proof that the Ottoman government had planned, organized and monitored the deaths of 1.5 to 2 million Armenians in 1915 and specified instructions on their deportation, but also that the Turks had settled Muslims onto Armenian property, without allowing Armenians to sell their land.
The Ottoman government "figured as caretaker of all Armenian immovable property" Kaiser said, meaning that everything the Armenians were not able to take with them, was taken by the Turks. Kaiser was not focusing on the emotional aspects of the Armenian Genocide and how Turks continue to deny the actions.
"Human rights means nothing [to governments]," Kaiser said while focusing on a more legal issue, which he claims has trillions of dollars behind it, as well as 85 years' worth of interest: Armenian real estate.
Kaiser said there is no statute of limitations against Armenians bringing the issue to U.S. courts since genocide is a crime against humanity. Because public records show that Armenian-owned land was given away by the Turkish government without any sort of compensation, Armenians can still make their claims.
"They [Turkish government] deny the Genocide because they don't want to put money into it, they don't want to face restitution," Kaiser said.
Kaiser suggested the Armenians put less effort into reliving the emotional past and should gain the confidence and resources to bring up lawsuits in U.S. district courts. He also said political discussion among the Armenian community should take place and that some kind of "Armenian Claims Commission" is needed in order to get the ball rolling.
Professor Dickran Kouymjian agreed that the issue has the interest of lawyers. Kouymjian told the audience that in a similar talk he gave in Paris recently, two young lawyers, from well-known law firms, approached him with their business cards and said they would like to represent the issue. Kouymjian said the battle would be underway if an organization out there was able to handle the financial outcome appropriately.
A lively question and answer session followed Kaiser's stimulating talk.