Armen Arikian
Staff Writer
Internationally recognized performer and teacher Hasmik Harutyunyan led an exciting Armenian Dance and Song Workshop for more than twenty-five students and community members on Saturday, March 5. She taught traditional Armenian folk songs such as Koon Yeghir Balas, Garun A, and Sona Yar, and also the steps to many traditional Armenian dances. Dances included the Gyovend, Kochari, Tamzara, Ververi, Mayroke, and Pampouri.
The event was sponsored by the Armenian Studies Program and the Armenian Students Organization and was partially funded by the Associated Students, Inc.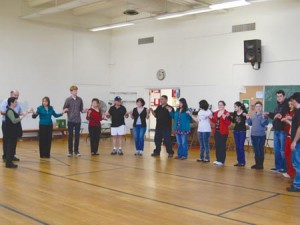 When did you first learn how to sing and dance?
I grew up in a family where everybody was always singing and dancing; it was a part of our daily lives. My grandmother and father were major influences for me in music and dance. My grandmother would talk of Moush, our homeland, until she died. She would gather us, and tell us about life there, and we would sing the folk songs of Moush. She would sing happy songs, dance songs and wedding songs; singing these songs helped her live. She was trying to keep us close to the traditional living style. When we were young, my father would tell us, "When you have guests, and if you don't have anything good to serve them, sing and dance for them."
What made you decide to keep dancing and singing a big part of your life?
I never thought that I would dedicate my life to singing and dancing. But I understood that if I could become a bearer of this culture, I would keep the homeland in my heart. That is how preserving this culture turned into my life's work
What are your personal favorite Armenian folk songs and dances and why?
Some of my favorite songs are those that I learned from my family—my grandmother, my mother, and my father. These songs remind me of when I was a child. My grandmother's Tagvoragovk [Praising of the Groom] is a wedding song from Moush. I also love Surmalu, about the Surmalu massacres, which my father sang. And, of course, the many Armenian lullabies which I collected, learned, and recorded.
What inspires you to teach Armenian folk songs and dances to others?
By teaching I am able to tell the world about my people- our history, our memory. Our lives as a people are in the Armenian folk songs and dances and being able to share that inspires me to continue. They will always remind us of who we are, and where we come from.
Why do you feel it is important for Armenians today, to learn and preserve traditional Armenian culture?
When we are young, we don't understand the importance of preserving these songs—this folk culture. But when you lose the older generation, and are standing alone on that cultural road, you understand that it is your time. Every generation is responsible for what they have learned and what they will pass on to the next generation. If you lose your country, there is always hope that you will get it back. But if you lose your culture, your roots, it is lost forever.
What is your favorite memory related to Armenian folk music and dance?
When the Karabagh war was still being fought, we were blockaded, and life was very difficult in Armenia. The lives of dear friends were in grave danger, and we didn't know what to believe in, what to have hope in. So we sang patriotic songs, happy songs, to try to cheer people up. We sang humorous songs, believing life hadn't stopped. That is when I understood how song could give strength in very difficult times.