Tatevik Hovhannisyan
Staff Writer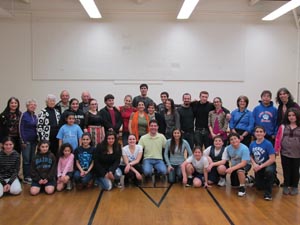 "You can sing when you feel sad, or be happy when you want to dance," explained Hasmik Harutyunyan, at a workshop on Saturday, February 2, sponsored by the Armenian Studies Program and Armenian Students Organization. The Associated Students, Inc., financially supported the event.
Harutyunyan's annual visit to Fresno State has quickly become a tradition for the Armenian Studies Program, focused on more than just teaching song and dance, but also on preserving culture.
"Whatever I learned from my teachers, I want to share with Armenian children," explained Harutyunyan, which is why she continues to return to Fresno, and on this most recent visit, visited the elementary school students of the Charlie Keyan Armenian Community School.
Every February, since 2011, Harutyunyan has taught students how to dance and sing traditional Armenian folk songs and dances. This year, she not only shared her favorite dance, "Kochari," but also sang her favorite genre of song, lullabies, one of which was "Koon Yeghir Balas."
When asked why she continues to return to Fresno she shared, "There is something special in Fresno. It breathes Saroyan, and it is a very Armenian city, which makes me feel at home."
Always full of love and energy, Harutyunyan made the workshop entertaining to attend, regardless if one had attended a previous workshop.
Vartush Mesropyan, who has attended the workshop for three years stated, "I enjoyed Harutyunyan's visit because we were able to gather with friends and family and help each other learn the songs and dances of our people."
Moreover, the students learned so much about their ancient traditions and how different all the regions were from each other. "Your [the students'] understanding of the importance of preserving this culture inspires me to return. The owner of this culture is the Armenian people, and it is our duty to preserve it. My purpose is to pass this culture to the next generation," explained Harutyunyan.
Her patriotism is very apparent—the dances and songs she teaches express that patriotic feeling and makes the students and community love their country.
Harutyunyan's goal for these workshops is to pass on the Armenian folk culture and traditions and also introduce non-Armenians to Armenian folk culture.
"It's a great event because you don't just learn how to dance and sing, you also learn the meaning and history of these songs and dances," agreed international student Lilit Grigoryan.
It is great that there is someone who knows about the Armenian culture and who is willing to share it with both the Armenian and non-Armenian culture in a way that the history and the real beauty of these ancient songs and dances is revealed.
"Culture has great power. If non-Armenians know and love our culture, our happiness and pain will be more understandable to them," concluded Harutyunyan.