Marine Vardanyan
Staff Writer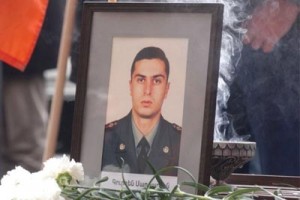 September 26, 2012 should have been a joyous day for a lieutenant in the Armenian army, Gurgen Margaryan, as it would have marked his 34th birthday. Instead, the day held a somber atmosphere, as Armenians gathered at the Yerablur Military Cemetery in Yerevan, Armenia, to commemorate his life.
Lt. Margaryan was brutally murdered in 2004, while asleep at a NATO-sponsored program in Hungary. While Armenians honored the memory of Gurgen Margaryan, his confessed murderer is living the life of a hero in his home country, Azerbaijan.
Uniting with demonstrators world-wide, the Armenian Students Organization of Fresno State organized a plea for justice on September 26th. The goal was to raise awareness among the students and faculty at Fresno State about the great injustice that had taken place with the release and pardoning of the Azerbaijani murderer, Ramil Safarov.
A participant of the NATO training, Safarov represented Azerbaijan, a country with long-time tensions with Armenia. Safarov murdered Margaryan and intended on murdering another Armenian officer present at the NATO program, but did not succeed.
Following Lt. Margaryan's murder, Safarov was sentenced to life in prison in Hungary. Yet, in late August 2012, after serving only eight years of his sentence, the government of Hungary extradited Safarov to Azerbaijan, where instead of continuing his sentence, he was immediately pardoned by Azerbaijan's president, Ilham Aliyev, and welcomed as a hero. The axe-murderer was awarded with an army promotion, a new apartment, and eight years of back salary, and is now a free man.
Despite protests in Hungary, Armenia, France, the United States, and several other nations, Azerbaijan has refused to take responsibility for its actions. A significant number of individuals remain unaware of the recent events, but ASO wanted to change that by hosting a table in the Free Speech Area to educate individuals with posters and informational flyers.
Students were also given the opportunity to send pre-written letters, courtesy of the Armenian National Committee of America, to President Obama, urging the United States to place pressure on Azerbaijan to punish Safarov for his crimes.
Mario Garcia, a student who took action by sending a letter, voiced his opinion. "There must be justice…it is ridiculous that they overturned his [Safarov's] lifetime in prison and on top of that he receives back pay," he said. "How do you murder someone, in cold blood, and get rewarded? It's just wrong."
The murder of Gurgen Margaryan, and the decision to pardon his murderer, Safarov, is not only an Armenian issue, but an international one, as it pertains to the rights of all human beings. The incident concerns the death of an innocent man, while the guilty individual is celebrated and rewarded. Human progress and development is held back by such events, which are a major step back and further promote hatred and the occurrence of similar crimes.