Tatevik Hovhannisyan
Staff Writer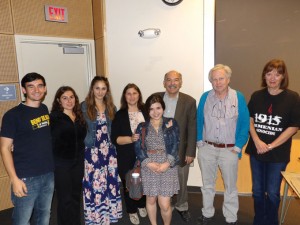 "The crime was on their faces, every day, and you could see it," stated film director Suzanne Khardalian. Her grandmother Khanoum was among the countless Armenian girls who, during the Genocide, were kidnapped and forcibly tattooed, with permanent marks on their young faces and hands.
Khardalian's film, "Grandma's Tattoos" delves into the story of not only her grandmother, but also the untold stories of other Armenian women who were kidnapped, sexually abused, and tattooed during the Armenian Genocide.
The film screening, organized by the Armenian Studies Program and CineCulture, took place at the Fresno State Leon and Pete Peters Educational Center on Friday, October 24, before an intent audience of 300. "Grandma's Tattoos" explores the sexual harassment and rape that took place during the Armenian Genocide, through the story of the director's own grandmother, Khanoum. Her childhood experience shaped her into a distant grandmother, who never spoke about her trauma.
When the death marches began, Ottoman gendarmes and Kurds kidnapped many children. These children were forcefully converted to Islam, sold, married off, or forced into prostitution. In order to never let these girls forget what happened to them, the faces and hands of these children were tattooed.
The film captures Khardalian's attempt to investigate and understand the history of her family and the reason why her grandmother was always so distant. Her interviews with her sisters, mother, and great-aunt attempted to decode the meaning behind the "devilish marks" on her grandmother's face and hands.
The true story of rape and sexual harassment experienced by her grandmother, and also by other women survivors of the Genocide, was deemed as "amot" or shameful to speak about. Yet these forgotten and hidden stories were brought to the surface by Khardalian, who shed light on the many injustices that took place. Photos of young, solemn Armenian women appeared on the screen. These beautiful girls would never escape the memories of the Genocide as the physical reminders on their bodies would forever keep the pain alive.
Khardalian and her husband, director PeÅ Holmquist, were invited from Sweden to participate in the film screening. Khardalian explained how the idea to create this film arose from a project about the women of the Rwandan Genocide, who had similar marks on their bodies. Her discovery led her to return to her city of birth, Beirut, to research the story behind her grandmother's tattoos.
The audience was able to interact with both directors, asking questions, but also sharing personal stories.  Many expressed their gratitude for the production of the film for telling the stories of all the women who were mistreated, abused, and forgotten. Some individuals were moved to tears as they discussed genocide and their own family story.
Khardalian, however, emphasized that the film was created not only to raise awareness about the Armenian Genocide, but also to teach and to educate about the violence committed against women during war and genocide.