Staff Report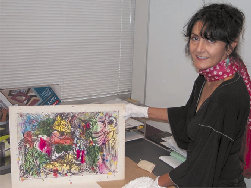 Armenian-American artist Varaz Samuelian (1917-1995) was a prolific artist, who left much of his art collection from his estate to the Armenian Studies Program at California State University, Fresno. While Samuelian's sculptural work is well-known to the community at large, much of his corpus in other media is not.
Two of Samuelian's high profile sculptures are part of the Fresno city landscape and are listed by the city as notable landmarks. These include the monumental bronze statue of the Armenian epic folk hero, David of Sassoon, dedicated in Court House Park, and a Saroyan bust, dedicated in 1984, in front of the William Saroyan Theater.
However, not much has been seen of his numerous watercolor and pen-and-ink works. Equally, many of his drawings have not benefited from proper storage and preservation. Taking these two facts into consideration, Fresno State graduate student Hazel
Antaramian-Hofman, with the assistance of the Armenian Studies Program, developed and proposed a project to the Associated Students rGrant program at Fresno State to organize (with conservation and preparation for exhibition) twenty to thirty pieces of art rendered in pencil and pen by Samuelian over forty to fifty years ago. Armenian Studies Program coordinator Barlow Der Mugrdechian advised her on the grant and will supervise the project. The rGrant awarded Antaramian-Hofman will begin a long-term, multi-tiered conservation and preparation process by which various works by Samuelian will eventually be displayed in museum-quality mounts at venues both on-campus and off-campus.
Antaramian-Hofman is a graduate student in the Department of Art and Design, studying art history with an emphasis in medieval Armenian miniatures. She also holds degrees in chemistry and environmental science. While taking courses in Armenian Studies, she became involved in the study of Samuelian's drawings. The first of a series of works to undergo the preparation and exhibition process will encompass Samuelian's "circus" drawings.
Varaz Samuelian spent his latter years in Fresno, California. Born in 1917, he immigrated to the United States from Soviet Armenia in 1946 and died in Fresno. He studied at the College of Fine Arts in Yerevan and at the Moscow Institute of Art, where he received a teaching credential. In Paris, he studied with such painters as Othon Friesz, Andre L'Hote and Fernand Léger. He held exhibitions in Paris, Nice, Marseilles, Barcelona, Mexico City, and at several New York galleries, as well as exhibiting locally in Fresno. Samuelian's oeuvre encompassed a wide range of media, including sculpture (bronze, stone), painting (oil, acrylic, watercolor), lithography, pen and ink, and pencil.
Samuelian left a majority of his art-work to the Armenian Studies Program. He was well acquainted with the Program through his friendship with Dr. Dickran Kouymjian and Barlow Der Mugrdechian. In January 1999 the collection was moved from Burlingame to Fresno.
The overarching objective of the "Varaz Samuelian project" is to stimulate interest in the artist's work by way of exhibition, thereby lending visibility to the much needed conservation and preservation issues facing his larger body of work currently stored at an off-site facility. The proposed project takes the first step in providing an audience to view and appreciate Samuelian's artistic contribution to the community of Fresno, particularly, his pen-and-ink and watercolors.