Mari Koshkakaryan
Staff Writer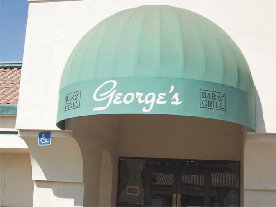 It has been a busy day and all one needs is a place to sit, enjoy, and relax. A place that offers outstanding customer service, along with delicious cuisine and a nice atmosphere, fits all the characteristics of George's Bar and Grill. Voted "Best Armenian Restaurant" by Fresno Magazine in 2006 is no surprise.
George's Bar and Grill took its start when owner George Koroyan and wife Eskuhi first opened the restaurant in September of 1978 in Fresno. Although awarded for the best Armenian cuisine, George's also offers incomparable servings of steak and angus burgers, along with lamb shanks and its most popular menu item—shish kabob. The restaurant also offers Mexican food as well as another favorite dish—pasta.
George's offers all homemade dishes that are prepared daily. Their bread is always brought freshly baked from the oven. Customer satisfaction is guaranteed at George's and they take great pride in welcoming their customers as they would welcome guests into their home.
"The food here is appetizing and the freshness can been tasted in their delicious homemade meals," said customer Jamie Martinez.
Another daily customer, Ernie Hekimian, added, "This restaurant allows me to sit back, relax, and enjoy a great variety of international cuisine. The shish kabob and lamb shanks are highly pleasing and I wouldn't go anywhere else."
With daily special offerings, customers can never get tired of the same dish. "Every time I come here there is always something new to try," said Tamar Karkazian.
This family-run restaurant has been around Fresno for a long time and has gained fame for their delicious cuisine, along with having chefs who have been at George's from the start and who have years of experience in the culinary field. Many might wonder what makes George's different than any other Armenian restaurant—it's a place to feel at home, feel welcomed, enjoy great homemade dishes, and spend quality time with family and friends around a sophisticated dinner table.
"I think that all Armenian restaurants here serve the same food, but each restaurant adds a distinctive flavor to their cuisine to separate them from one another," said owner Margo Koroyan modestly.
Everyone knows that there is nothing better than homemade dishes—with which I couldn't agree more. Customers who attend George's local Armenian restaurant can't help but come back. Once one opens the elegantly constructed double doors of George's restaurant, they sense the mouth-watering aroma of all the food filling the atmosphere of the carefully set out dining room. George's is the place to enjoy a delicious home cooked meal, along with a bar available to enjoy a drink while waiting for guests or just to hang out with a friend.
There is a reason why George's Bar and Grill was given the prize for "Best Armenian Restaurant" and everyone needs to go see what all the tasty food talk is all about—there will be no regrets.
George's Bar and Grill is located at 6680 North Blackstone Avenue, in Fresno. Their phone number is (559) 436-1654.