Ruzan Orkusyan
Staff Writer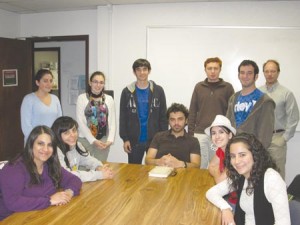 Author Garin Hovannisian visited the Fresno State campus on Monday, October 18, to meet with members of the Armenian Students Organization. Hovannisian also spoke that same evening at a public presentation on campus, sponsored by the Armenian Studies Program.
Hovannisian provided students a more personal view of himself and gave time for a discussion of his book. He read passages from his new book, Family of Shadows, and also commented thoroughly on the background of some of the stories, as well as giving students the opportunity to ask questions and have a dialogue. He expressed himself eloquently and engaged his younger audience by asking them questions about Armenian history.
An interesting part of the gathering was the question and answer session that followed after Hovannisian had shared some of his favorite passages. He answered with honesty in a manner that reminded one of his youth, but also hinted at his accruing understanding of worldly matters. The questions ranged from personal to opinion questions that let students see more of his personality, rather than seeing him only as an author. He talked of moving to Armenia, his experience attending school, and his discovery that Eastern Armenian is a different dialect than Western Armenian.
A main topic of curiosity for students was the differences between life in Armenia and the United States. When asked which country he enjoyed more he replied that he couldn't pick one and that whenever he left one he would instantly miss the other. He then went into greater depth about his current activities and his nomadic lifestyle – roughly half of his time is spent in Los Angeles, the other half in Armenia.
Since his early childhood Hovannisian has been a man divided between two cultures and countries. He has seen the best and the worst of both worlds and can now comment on how the advantages of one can heal the shortcomings of the other. Hovannisian mentioned how he struggled with his identity while growing up, not knowing where to consider his home. Students were at awe of this lifestyle. "It was interesting to meet and talk with someone of our generation that lives between America and Armenia," said Ann Soghomonian.
Hovannisian expressed his views on current problems in Armenia and in the Armenian communities worldwide. He commented on his hopes of greater participation in cultural activities among the younger generation. The conversation came alive as some ASO members compared schools they had attended in Armenia with ones that Hovannisian and his siblings had attended.
"The private meeting with the Fresno State Armenian Students Organization was exceptional. I felt that I was in the company of highly intelligent students and a deeply dedicated Armenian community," concluded Hovannisian.