Andrew Esguerra
Staff Writer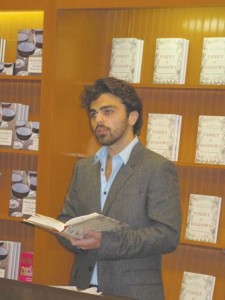 We often hear that Fresno is just like the land of Armenia. The climate is warm, the soil rich and fertile, and the Armenian community strong and active. Combine this sense of "being home" with the pride Armenians feel on September 21, a revered date to Armenians because it was on this day in 1991 that Armenians finally regained their independent homeland. And it is no wonder that Garin Hovannisian chose to debut his new book, Family of Shadows, in Fresno.
"Fresno," Hovannisian elaborated, "is where I began to look back at my family history." He explained when his family was living in Los Angeles, that he would visit the Central Valley with his family as a child, and see the headstones of both family members and the memorials of famous Armenians such as Soghomon Tehlirian and William Saroyan. Later in life, these visits to Fresno inspired him; notably, the headstone of his great-grandfather Kaspar Hovannisian and lead ultimately to the exploration of his family history which later developed into his book. This influence and inspiration for the memoir, according to Hovannisian, is the reason why he chose to release his book here and make the first stop of his nationwide book tour in Fresno.
The standing room only audience at the Barnes & Noble bookstore, made up of interested Armenians and inquisitive community members alike proved, to be a successful combination for Hovannisian. He began introducing his book by explaining just how his connection to Fresno inspired him. "If such great wrongs our sons forget…" reads the epitaph on Kaspar Hovannisian's gravesite, located in Ararat cemetery. Kaspar Hovannisian, Garin Hovannisian's great-grandfather, was born in Kharpert and experienced first-hand the tragic loss and devastation of the Armenian Genocide. His epitaph is a warning to later generations of Armenians, that they should not forget the Genocide, which is a warning Garin Hovannisian heeded.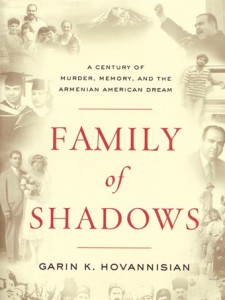 Family of Shadows is a memoir of the last century of Armenian history told from the perspective of three generations of his family, beginning with the story of Kaspar Hovannisian who escaped death, not without tragedy striking his family, and relocated to Tulare, California, to start a new life. It became a prosperous life where he decidedly refrained from mentioning what he saw and experienced in his homeland as a youth.
Nevertheless, the story of Kaspar, his son Richard, and his grandson Raffi perhaps parallels the story of every Armenian family who survived the Genocide. Therefore Family of Shadows becomes a book that is less of a dissection of a family's trials and history and more of a memoir of a nation.
After concluding his introduction for the fledgling book, the multitude of listeners became eager consumers. Within minutes, however, the books had run out and with no copies left for latecomers or stragglers at the end of the line, Hovannisian proceeded to genially sign copies of his book. It was a successful first day of the book tour – good news for the author and Fresno. Fresno, it seems, will also be affected by Kaspar Hovannisian's warning to never forget the events of the Genocide nor the cultural history of Armenians today and those days following that dark time in our past. A good thing too, for knowing our history can only propel us towards our future.