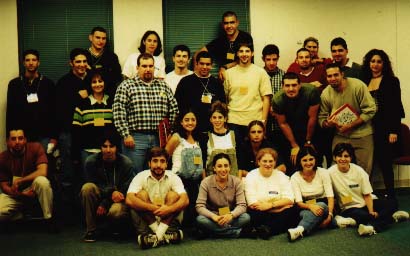 Talin Mekhitarian
Staff Writer
At last, the day was finally here for the Fresno State Armenian Students Organization (ASO) to meet its fellow Armenian Students Associations (ASA) at the All State Armenian Students Convention held on the weekend of October 23-25, 1998.  The Fresno ASO felt that a convention would be a good way to further communication between all of the ASA's and discuss the issues each campus is facing regarding the Armenian Question and the role of the youth today.  A weekend of excitement and education was planned; Friday night would be the "get to know everyone" evening, Saturday had a line up of interesting speakers and video presentations, and Sunday morning would be the farewell breakfast.  In the midst of discussing such serious topics, the ASO thought some fun should also be incorporated.   ASO members anxiously awaited the arrival of their out of town friends Friday evening.  As people arrived they signed in and received a nametag and welcome packet.  Refreshments such as cookies, candy and chips & dip were served.  The atmosphere was very relaxed and enjoyable, as there was music and mingling.  As the night progressed, a keep-away mini football game began between the males and females.  The women were able to keep the ball for quite some time until they were eventually outnumbered.
As soon as there were enough people everyone began playing icebreakers.  The first was a challenging mind puzzle game where two squares were cut into pieces and they had to be combined into one.  Another game that definitely brought everyone a step closer was the Animal Game. Each person was given a piece of paper that had written on it what animal they were going to be: lion, cow, monkey, dog, or bird.  They were supposed to keep it to themselves until the lights were turned off.  Then they had to make the noise of the animal so that all the animals would congregate with their fellow animals.  The animal group who had all it members together first would win.  What a sight!  In the middle of either hearing a roar or a moo, one could hear intense laughter.  After playing a couple of other name games everyone was hungry and they decided to go to In and Out to top the night off.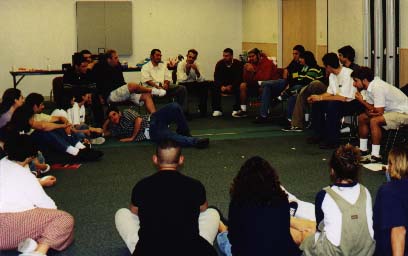 Saturday Night was the Halloween party.  The Armenian Community School was very supportive in donating their cafeteria and the ASO did a great job transforming it into a Haunted House.  They covered everything in black and wrote on it with glow-in-the-dark chalk.  A Spooky Skeleton welcomed everyone at the door and spiderwebs filled the walls and ceilings.  A coffin was on display as well as many other spooky decorations. At nine o'clock sharp the music began with Fresnoís own Hye Oozh DJs, Susie Saghdejian and Nishan Tanossian.  The night was filled with dancing and socializing.  It was a way for everyone to unwind and have fun after a busy day of learning and discussing.  Eventually everyone ended up at Peppermill for some late-night eating.
The next morning a number of participants ate breakfast at Denny's and said their good-byes.  All in all, the weekend was well balanced with fun and educational events.  That way everyone could stay interested and excited about the convention.  The convention served many purposes, one of which was clearly fulfilled, and that was to bring together students from all over to establish friendships and bonds never to be lost.