Svetlana Bagdasarov
Staff Writer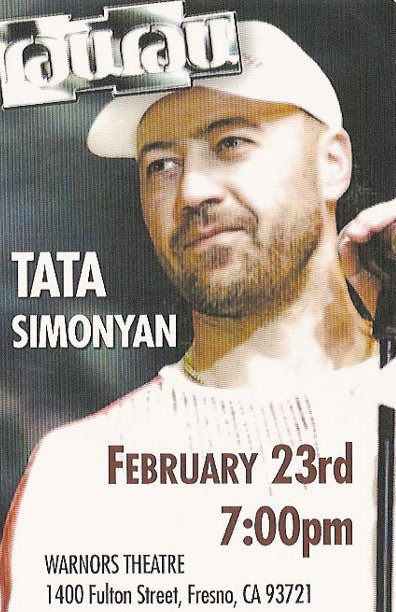 On February 23rd, at approximately 8PM, Tata Simonyan graced the stage of the Warnors Theatre in downtown Fresno. Thanks to the tremendous effort of local promoter Hakop Krboyan, people were finally able to enjoy a popular concert without having to travel to big cities like Los Angeles or San Francisco. Fresno was truly lucky to have such a talented and well-known artist fly all the way from Yerevan, Armenia just to entertain the public.
Tatevik Ekezian opened the show with a short introduction as the audience continued to fill the auditorium. Oddly enough, the theatre was not filled to capacity. Even though seeing the empty seats was a bit disappointing, once Tata took control of the microphone and began to sing, the audience was completely entranced.
Wearing one of his signature hats, Tata was comfortably dressed and ready to prove why he is one of the most popular performers to enter the Armenian music scene. Accompanied by an extremely gifted band, Tata sang, without rest, for a little over two hours, only stopping for brief conversations with the audience. He was very friendly and genuine when he spoke to the people, especially when he mentioned Armenia, and how grateful he was to share his musical talent.
After singing major hits such as "Yes U Du," "Ov e Na," and "Yerevani Aghchignerin," the theatre began to look like a huge celebration instead of a concert. People of all ages were getting up to dance, sing along, whistle and cheer. Tata himself couldn't resist dancing along to his own songs and acoustic solos. Tata's vocals were practically flawless. There was absolutely no difference in his recordings and the live performance, and these days it is really rare to find an artist that sounds just as amazing live as he or she sounds on a recording.
Overall, the concert was definitely worth every penny. People gathered after the concert just to discuss the incredible success of the show. Even those who drove all the way from cities such as Los Angeles and Sacramento felt that their trip was definitely not in vain. Let's just hope Fresno continues to attract such superstars as Tata Simonyan and the Armenian community continues to support these events by attending as many as possible.