Staff Report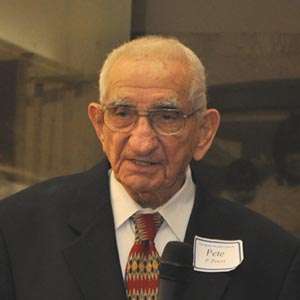 Pete Peters, a well known Fresno business man and philanthropist, passed away on Tuesday, March 13, 2012.
A beloved father, grandfather and uncle to many nephews and nieces he was fondly called "Uncle Pete" by everyone he met, a name he dearly cherished. He lived a full life with his twin daughters, grandchildren, sons-in-law, nephews and nieces and all his friends and extended family members.
Pete was born on May 27, 1917, in Fowler. The youngest of five children he was born to Samuel and Lillian Bagdesarian Peters from Armenia. Upon graduating from Fowler High School in 1935, Pete worked the night shift at Gobel Disc then joined his brother Leon at Valley Foundry and Machine Works. With the onset If World War II, Pete enlisted in the U.S. Army Air Corps and served in Burma and India working as an airplane mechanic.
After the war, Pete returned to Valley Foundry as Vice president and sales manager. Pete and Leon became "the perfect team" quickly setting their sights on meeting the needs of the wine industry by designing and manufacturing crushers, tanks and presses. As a result, Valley Foundry enjoyed many profitable years thus merging with Ametek in 1968. Dad remained instrumental in the company's growth until he retired at the age of 73.
Peters was active in numerous clubs and charities.His philanthropic efforts included the Boy Scouts, California State University, Fresno; Community Regional Medical Centers and the Fresno Metropolitan Museum of Art. Everyone who knew him as Dad, Grandpa or Uncle Pete, can agree he was sharp as a tack, a successful businessman, played a mean hand of pinochle and gin rummy, generous to many and above all, grateful to be able to give back to the community of Fresno.
Peters generously established a scholarship fund for students in the Armenian Studies Program at Fresno State. Many students have been helped by his generosity.
He is survived by his daughters, Lorraine Peters Wilson and Elaine Peters Neuss; son-in-law, Carl Neuss; and grandchildren, Carl, Alex and Rebecca Neuss. He is also survived by numerous nephews, nieces and cousins.