By: Marisaa Isquerdo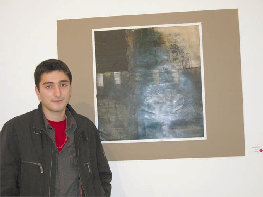 Fresno Gallery 25 welcomed 21-year-old artist Hrach Vardanyan from Gyumri, Armenia and exhibited Vardanyan's art from December 4-28, 2008, every Friday, Saturday, and Sunday from 1:00 to 4:00 pm. Vardanyan's artwork consisted of paintings and drawings that were shipped in from Gyumri. Local Fresno artist Carol Tikijian hosted Vardanyan.
Vardanyan is part of an artist exchange between Fresno's Gallery 25 and the Gallery 25 in Armenia. This exchange got started two years ago by Tikijian who went to the Gallery 25 in Armenia, where she met Vardanyan.  Next year, Fresno's Gallery 25 hopes to send an artist to Armenia's Gallery 25.
Vardanyan is a young, talented artist who studies at an Art Academy in Gyumri. He started exhibiting his artwork two years ago. The first exhibition took place in Armenia; the second one was in Vienna, Austria. Now, Fresno had the privilege to debut Vardanyan's artwork in America. Vardanyan's artwork is unique and original. Using a mixture of light and dark colors, bold lines, pen and ink applied like paint, as well as people and animals, Vardanyan is able to create abstract, surreal, and conceptual artwork.
"My artwork is making a statement about the human struggle," Vardanyan said. Vardanyan depicts the internalities and externalities of the human struggle, which can manifest itself in politics, war, and in the human spirit.  Drawing on experiences from his home country of Armenia, which is no stranger to political struggle, as well as other worldly injustices, he is able to use his art as a way to expose the ugly realities of life.  "I want to open up peoples eyes to the world around them," he simply stated.
Vardanyan uses symbols, such as animals and chairs, and compares people and nature with them. Take for instance a piece of his entitled Turtle Carrying City. In this piece, a massive turtle is shown carrying a metropolis on its back. The turtle is symbolic of earth, and the city is symbolic of people. "Turtles live a long time and so are able to gain wisdom; people need to be like turtles and take in knowledge of the world in which they live in so as not to be indifferent to what's around them," commented the artist.
At the exhibition, the majority of his art was centered on dogs.  But not real dogs, they were fantasy dogs. Why dogs? "A dog is a city animal, coming and going as he pleases, and a city is symbolic to life, to the political struggle that people experience throughout the world," explained Vardanyan. According to Vardanyan, people act like dogs at times, relying only on instincts and choosing to be indifferent to the realities of life. A great example of this was seen in his piece entitled Gaze. Gaze is seen from a dog's perspective; the artist used heavy, thick metallic lines to the point that all one is able to see is metallic. The point: people should not view the world in a thick fog; instead they need to lift their heads and see beyond the "fog."
Another impressive display at the exhibit was the Hierarchy of Sitting Places. In this display, a myriad of chairs were drawn on yellow and green napkins, with each napkin having one chair each.  The chairs ranged from toilet seats to wooden chairs. The chairs are symbolic of places, the places in which people become comfortable.  Their statement: people should not become comfortable in one chair because there are many "chairs" many places in the world for people to become aware of.
One important aspect displayed at Vardanyan's art exhibit was his sketches. Vardanyan displayed his sketches with his final pieces because to him, "it is important for people to see the process that is involved in creating."  Vardanyan is sensitive to his sketches, as he explained, "my real feelings are in my sketches as they are the foundation that led up to my finished creation."
Vardanyan uses his artwork to make a statement about the internalities and externalities of the human struggle in which everyone experiences. He uses symbols, such as animals, to make his point come across. For Vardanyan, art is his life. "My art comes from my heart, it's my feelings and if I am able to change one persons viewpoint, than I have accomplished something."
After Fresno, Vardanyan will continue to travel to exhibit his art and study in different places. For more information about Vardanyan and his art contact hrachvardanyan2008@rambler.ru.