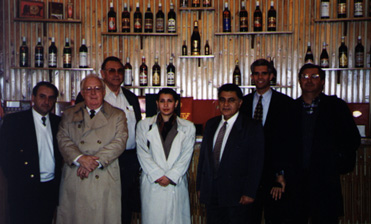 By Bill Erysian
For the newly-arriving visitor to Armenia these days, expectations about the state of an economy in transition can be uncertain, but it does not take very long after your plane lands to see there are lots of bright spots on the horizon especially for Armenian agriculture.
That's the consensus from a team of Fresno agriculture specialists who returned earlier this month from a fact-finding trip to Armenia. The group was part of CSUF's latest contribution to the US Department of Agriculture's Marketing Assistance Program currently underway in Armenia.
Juan Batista, CSUF Professor of Agricultural Economics and director of the academic portion of the USDA project was accompanied by two local experts-Victor Sahatdjian of Victor Packing in Madera and Duke Golden, a local attorney and trade specialist. It was the first trip to Armenia for the three Fresnans.
The team was also put together to provide expertise in the development of Armenia exports and to offer guidance on western farming techniques.Batista's role is to assist the Armenian Agriculture Academy in the planning of a western-style curriculum. He says the outlook for the Academy is very optimistic."The agriculture Academy is doing an excellent job even though they don't have a lot of teaching resources at this time," Batista explained. The most important thing we found there is a great enthusiasm by students and faculty to cooperate with CSUF. They really know what they want."
He is exploring ways to introduce western oriented subject matter in business and economics in the Academy."The real challenge is to give the Academy the tools to turn around and be able to teach these types of courses themselves in a short period of time after we train the instructors."
Other programs Batista has already organized as a result of the trip included a scheduled visit to California in January by the director of the academy, Dr. Armen Khachatrian, to observe university strategic planning processes firsthand. CSUF also has plans to bring 10 Academy faculty members to Fresno to attend introductory courses in business, micro-economic theory, finance, marketing and computer applications in business.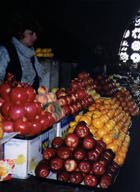 Batista also said that he is actively seeking donations of 20 computers from the local community to set up a computer lab at the Academy.Victor Sahatdjian was specifically requested by several individuals in Armenia to offer some of his expertise in fruit drying. After discovering that the dehydration business in Armenia was not yet at the commercial level Sahatdjian quickly began making some interesting observations about general farming practices in Armenia.
"What struck me immediately was that I saw abundant farm land, good soils, and an adequate water supply in Armenia, which is a big plus," he said. "The Armenians are growing a variety of crops in very large amounts and we are particularly impressed with the high quality of the fruits and vegetables."Recognizing that there is actually an over supply in certain crops one of Sahatdjian's first recommendations was that farmers should try to sell organically grown fruits and vegetables, which would provide a higher profit margin, especially as exports. He also noted a lack in cold storage facilities and effective transportation routes in the country."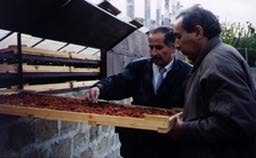 We were able to provide some guidance on western farming techniques and storage, as well as a few things we have learned about how to develop a strong organic farming industry."
In addition, Sahatdjian offered advice on the need for proper grading, sizing, inspections and documentation of produce in Armenia as a prerequisite to compete in the international marketplace.Duke Golden was originally asked to accompany the team to establish a barter exchange house in Armenia, due to perceived lack of strength in the Armenian currency (Dram) and ineffective transportation routes out of the country.
But the reality is that Armenia has stabilized its currency and continues to develop reliable export routes for its products, which provide Golden with the chance to focus on building immediate export opportunities."
The problem of Armenia being a landlocked country may not be insurmountable to the future development of international trade," Golden emphasized. "There is every indication that exports through a Georgian port could be economically feasible, which we hope to test in a few months."
He was also impressed with the work that the USDA office in Yerevan has been doing to assist farmers in upgrading their food products to meet world standards for international trade. According to Golden, with better food processing, canning and packaging, several categories of food products could be ready to meet world standards within six months.
His next plan is to establish a trading company in Armenia that can find international customers for these products.