By Shelley Kutumian
Staff Writer
The family owned and operated Marat's Restaurant located at the corner of Cedar and Shepherd was the subject of a Hye Sharzhoom undercover food critique that proved the restaurant to be a place to go to have a pleasant dining experience of great Armenian and Middle Eastern food.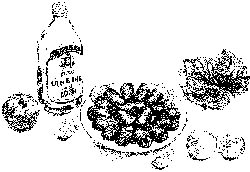 With no previous knowledge of the service, food, or atmosphere, I went into the restaurant open-minded. Upon entering, I noticed the place was full. A small, fluted vase with sand colored marbles, green and yellow silk flowers, and a colorful plaid Easter egg sprouting out of the vase decorated the tables. Soon after sitting down I was greeted and given a menu.
My first glance at the menu was a long one. There were several different dinner plates to choose from, including kebab plates that gave you the choice of chicken, shish (beef), lula, or lamb with pilaf plus a green salad; specialty plates that included cheese borag, yalanchi, and a choice of either fries, hummus, tabouli, or a green salad. There were also kebab salad plates, light and vegetarian plates, and a variety of hot and cold sandwiches to choose from. The one thing that impressed me when I was looking through the menu was the different side orders they had. Someone who wanted to try a few of their specialties could easily do so without spending too much extra money.
When the waitress came to take our orders, my dining companion and I decided on the lamb kebab plate, the specialty plate with lula kebab, a side of lahmajun and a side of dolma (cabbage).
While waiting for our drink orders to come, we listened to soft and relaxing Armenian music. It was soft enough for people to carry on a conversation without distraction but loud enough to give the room an Armenian flare.
We had to wait a few minutes before our sodas arrived, and a few more minutes before our meals were served to us. One thing we did not expect when our meals arrived was the generous servings. Both of our plates were covered and piled high with food. The specialty plate was practically enough for two, it included five to six pieces of lula kabab, three large yalanchi, a cheese borag, and a large bowl of hummus with an unlimited amount of pita bread. One lahmajun and a good-sized cabbage dolma came as our side orders.
My companion's taste buds were tantalized with the cabbage dolma. He enjoyed the spiced flavorings of the meat wrapped in a leaf of boiled cabbage. I, on the other hand, enjoyed the lahmajun. The specialty dinner was very satisfying. The first thing I tasted was the yalanchi. I am picky about what my yalanchi tastes like and these were good, of course they can't beat my Nana's, but whose can?
The lula kabab was first rate. The seasonings, portion, and overall taste were tempting enough for me to go back and have it again. The meat was seasoned so the lula kabab did not taste like another ordinary piece of meat, and they were cooked just right. The hummus was a bit too tangy for my taste. The lemon was overpowering and it was missing flavor, either salt or garlic. The cheese borag made up for the hummus though. Flaky phillo dough, cheese, and butter…who could resist? The lamb kabab was just as good as the lula kabab. The lamb pieces were tender and mouth watering. Seasoned with parsley and onions, the lamb was quite tempting. The green salad was presented nicely with chopped tomatoes and covered with Marat's homemade dressing, a perfect ratio of oil and vinegar.
Even though my companion and I were stuffed, we could not leave with out having dessert. We tried the Napoleon, which is Marat's family recipe. Needless to say, that was a fabulous way to top the meal. Buttery layers of puff pastry filled with a delicious sweet cream.
Our overall experience at Marat's was a good one. The portions were generous and I recommend the lula and lamb kabab, both of which were excellent. The family atmosphere also added a special touch.
Prices for the dinner plates varied from $6.95 to $10.50 and the sandwiches ranged from $4.35 to $6.50. All orders can be dine in or carry out, and chorag, baklava, and other Armenian treats can be ordered by the dozen.
On a Nana scale of one to five (five being that the food was just as good or better than my Nana's), I give the restaurant a 3 1/2.
Marat's Restaurant, operated by Marat Oganesyan, is located at 8961 N. Cedar, at the southwest corner of Cedar and Shepherd in the Vons shopping center.