Emma Shaljyan
Staff Writer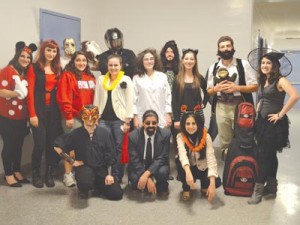 October is always a busy month for college students—with midterms, papers, and other school related events. Members of ASO are no exception, especially with the number of events they participated in. A variety of ASO events were held throughout October: an Armenia Independence Day Celebration, their Annual Car Wash, a Halloween Movie Night, and the "Walk of Life." All these events were great successes and created unforgettable memories.
To celebrate Armenia's 20th anniversary of independence on September 21, the ASO decided to educate their fellow peers. They set up a table in the Free Speech area and made a poster with information on Armenia before and after independence. With Armenian music playing, ASO members explained Armenia's history to interested students. "It gave us a chance to educate people who might not have heard of Armenia and it was fun exposing them to Armenian music," explained graduate student Suren Oganessian.
This year the ASO executives decided that the club should stay active in the community and volunteer, so they participated in the "Walk of Life," organized by the Armenian Bone Marrow Donor Registry. Participants walked along a historic two and a half mile route that emphasized Armenian culture, with stops at the statue of David of Sassoon, the William Saroyan Theatre, and Holy Trinity Armenian Apostolic Church.
The goal of the walk was to raise awareness about the need for bone marrow donors who can be potential matches for Armenians around the world. Armenians who have leukemia or various related diseases use the Registry to find matches. ASO members also gave blood and became part of the Registry.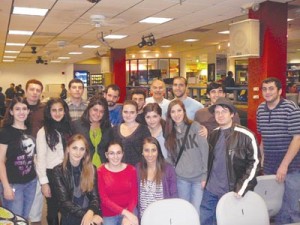 ASO's Annual Car Wash was held in the parking lot of Viktoria's Place restaurant on Saturday, October 22. This event was a huge success thanks to the many Fresno State students, as well as parents and friends who stopped by. Members had lots of fun washing cars and enjoying each other's company. This year the group got very creative to keep busy and get peoples' attention.
They organized a little Vartavar celebration for themselves, throwing water on each other once in a while. Vartavar is an Armenian tradition, associated with the feast of Transfiguration that takes place in July. Other members held posters on the sidewalk and started dancing an Armenian dance, Kochari. Overall, the event was a great success and the students had a great time and raised a lot of money for their future events.
The final event for the month of October was a Halloween event that consisted of a potluck, screening of a "scary" movie called "Devil," and a costume fashion show/contest. All the members were dressed up in fun and unique costumes, such as a mad scientist and Minnie Mouse.
"My favorite part was the fashion show. It was fun seeing everyone get into their character," said Marine Vardanyan.
After the fashion show some of the members began dancing the "Macarena," which became the highlight of the evening.
This semester has been very successful so far. The ASO has dedicated members who find time in their busy schedules to participate in meetings and events. The ASO has many events still planned.