Sarah Soghomonian
Staff Writer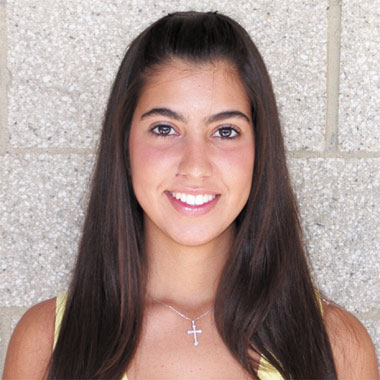 Fresno State has welcomed Talene Naljian to campus this semester.
Naljian, 19, from Upper Saddle River, N.J., is taking part in the National Student Exchange Program. The sophomore attends Ramapo College of New Jersey, one of the many universities in the United States that allows students to study a semester at a different school.
Naljian was drawn to Fresno State because she has Fresno ties. She was born in Fresno and lived here until she was 5 years old. Naljian also has family in Fresno and comes every July for a month-long visit. "I know a bunch of people here," she said.
One of those people is Naljian's cousin, Tamara Shamlian, a Fresno State junior. Naljian says that being able to attend school with Shamlian and getting to spend extra time with her is one of the highlights of her experience in Fresno. "I'm having a good time so far," Naljian said.
Another advantage of attending Fresno State for Naljian is getting to interact and bond with Armenians both in and out of the classroom. "There are a lot of Armenians here," Naljian said.
"There are very few Armenians in New Jersey and those that are Armenian are not as familiar with Armenian culture and tradition," Naljian said. In Fresno, "everyone is very dedicated to the Armenian cause," she said. "Everyone is really close-knit."
An exciting surprise Naljian discovered at Fresno State is the Armenian Studies program. "Who would have thought they would have an Armenian class?" she said. "In New Jersey, they don't even know what an Armenian is!"
Naljian is enrolled in Armenian Studies 20, Arts of Armenia, and Armenian Studies 108A, Armenian History I, a survey of ancient and medieval history. Naljian said she is enjoying learning and seeing examples of successful Armenians by attending Armenian Studies program sponsored events.
Fresno State has benefits that Naljian's college in New Jersey does not offer. "There is more cultural diversity and the classes are bigger and more are offered," she said.
Naljian is a nursing major and plans on becoming an Anesthetist, which is an assistant to the Anesthesiologist. Naljian's father, an Anesthesiologist, is the source of her inspiration, she said.
Naljian will return to New Jersey in December following the end of the fall semester, but will take with her fond memories of her time at Fresno State. "Everyone is really welcoming!" she said.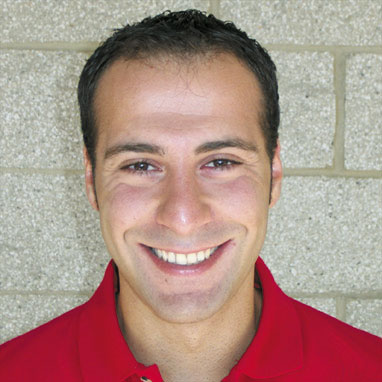 Christian Toros is visiting America for the first time. The 24-year-old Armenian is studying this semester at Fresno State as part of a foreign exchange program.
Toros is from Göeppingen, Germany and attends the University of Nüertingen. A group of eight students from his university, five business majors and three finance majors, are attending Fresno State until December.
Toros, whose field of study is Automobile and International Management, is enjoying his time in the United States and at Fresno State. "I like Fresno," he said. "It has a perfect location between all the big cities."
Since arriving in California in August, Toros has traveled to Los Angeles, Las Vegas and both Yosemite and Sequoia National Park. Before returning home to Germany, Toros and his fellow classmates plan on exploring San Francisco, Seattle and parts of Canada.
Toros, whose last name was shortened from Torosian, did not know that Fresno had a large Armenian population or that Fresno State offers Armenian Studies courses when he began looking into studying in the U.S. "It is really fantastic to have an Armenian Studies Program at the university," he said. "That is impossible in Germany."
A desire to improve his English and explore the United States is why Toros said he chose to study at Fresno State, where many students from his school have come in the past. Another thing that made Fresno State stand out was that it offered a semester-long program versus a year-long program.
Fresno State's Armenian Studies Program and Fresno's high Armenian population were a pleasant surprise for Toros. "It was accidental," Toros said. He added that his parents did not really want him to come to the United States, but when they found out Fresno was full of Armenians, they got excited about the idea.
"Germany has a small, but close Armenian population," Toros said, "Armenian culture is alive within them. They have Armenian churches, parties, and even an Armenian soccer team."
While studying at Fresno State, Toros is enrolled in Armenian Studies 10, Introduction to Armenian Studies. "It is very interesting," he said. "I am learning a lot of new information."
Toros notices a lot of differences between America and Germany. "The structure of the city is much different. You have to have a car here," he said. "Everything is so far away from each other."
Toros has found Americans to be very nice, but says he sticks mostly with the group from his school. He said he has had a hard time making contact with Americans outside of the classroom.
"There are many perks to attending college in the United States," Toros said. He said he enjoys attending campus activities, such as watching the Bulldogs play football. He could not believe the excitement and pageantry that goes along with Fresno State football.
Toros' experience at Fresno State has been very positive. "It is a wonderful campus," Toros said. "Our whole university is the size of the Peters Building!"