Suren Oganessian
Staff Writer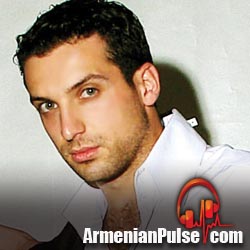 Singer Narek Baveyan is among the emerging pop stars in Armenia today—one of the more unique artists on the musical scene. Baveyan's musical style mixes traditional Armenian folk music with elements of rock and synth pop, and even polka. His upbeat track "Dzuk," released in 2011, is a shining example of how well he is able to incorporate an accordion with traditional Armenian instruments to make for a very festive and catchy song that has almost as much in common with German folk music as it does with Armenian folk music. Narek Baveyan's musical style is extremely varied; his songs "Ko Hogin" and "Indz Tesa" are both slower love ballads that feature a soft piano.
Another example of his variety is the song, "Khelegar Ser," which features synthesizers and autotuning, a more modern dance track that hearkens to Western-style pop. "Khelegar Ser" also has the distinction that its music video was banned from most Armenian television stations for being too explicit.
Narek Baveyan began singing at the age of nine, taking third place in the Do Re Mi Song Competition. Later he took part in the All-Armenian Song Festival "YNCA," an annual music competition held in Stepanakert, featuring artists from both Armenia and Artsakh, which often serves as a way for lesser-known singers to gain fame. Baveyan was also a student at Yerevan Komitas State Conservatory's Jazz-Pop-Vocal Department.
http://www.armenianpulse.com/artists/narek-baveyan/