Staff Report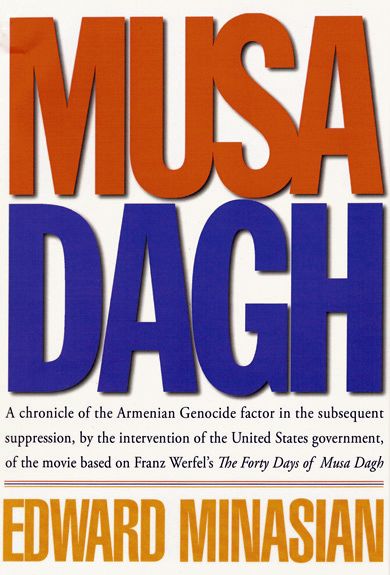 Edward Minasian's new book, Musa Dagh, has just been published in the last week of April. The book is sub-titled "A chronicle of the Armenian Genocide factor in the subsequent suppression, by the intervention of the United States government of the movie based on Franz Werfel's The Forty Days of Musa Dagh."
Musa Dagh is the first book to deal with the historic controversy, and traces the history behind how Franz Werfel's American best-seller was slated to become a Hollywood movie, but was never made there.
Franz Werfel's Forty Days of Musa Dagh is the story of the heroic stand by the Armenians of Musa Dagh, against the Turkish army, which aimed to deport them to the Syrian desert. Werfel's powerful 1934 book gained great attention throughout the world.
MGM studios purchased the rights to the book, with the intent of producing a film, based on the book. Famed director Irving Thalberg was to produce the movie. Mr. Minasian's extensive research into this period, uncovered the campaign by the United States government and the Turkish government to make sure the movie was not made. He examined records at the MGM archives, U.S. State Department papers, and the Franz Werfel Papers at UCLA.
Mr. Minasian first read The Forty Days of Musa Dagh as a nineteen year old serving in World War II. That experience, combined with discovering more about his own family history as survivors of the Armenian Genocide, led him to the life-long search for answers.
Mr. Minasian's Musa Dagh focuses on the events and personalities involved in this saga. The story of this 73 year struggle to make the movie, has never before been told in a book.
Mr. Minasian is a graduate of the University of California, Berkeley. The study of the story of Musa Dagh, and Franz Werfel's book of the same name, have been a passion in his life.