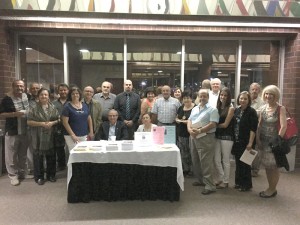 Kara Statler
Staff Writer
Dr. Vahram Shemmassian, director of the Armenian Studies Program at California State University, Northridge, was a guest speaker for the Armenian Studies Program's Fall Lecture Series on Friday, September 30. His talk, "On the Trail of My Musa Dagh Ancestry," documented Dr. Shemmassian's journey of self-discovery and what became a life-long passion to conduct research on the people of Musa Dagh. The culmination of his research was published in a book The Musa Dagh Armenians: a Socioeconomic and Cultural History 1919-1939 (Haigazian University Press, 2015).
Dr. Shemmassian was a sociology student in 1976 at the American University of Beirut (AUB), when as a result of the Lebanese Civil War his family moved to Anjar in the Bekaa Valley. AUB was shut, roads were closed, and Dr. Shemmassian was pondering his future when he had the idea to explore the network of relationships among the people of Musa Dagh.
He began his journey by interviewing the elderly of Musa Dagh, and the first person he interviewed was a restaurant owner who gave him a thin piece of falafel wrapping paper to write upon. Dr. Shemmassian has kept that fragile piece of paper until today.
Dr. Shemmassian has traveled all over the world looking for and interviewing Armenians who came from Musa Dagh. When he arrived in the United States to study, he found people who were ready to share their stories about life in Musa Dagh. He sent questionnaires to clergy, teachers and leaders of the community, and met with people who had family documents from Musa Dagh.
In the 1980's his research focused on Musa Dagh Armenians who lived in Hollywood. They had emigrated there from Soviet Armenia and he encouraged those he met to write their memoirs. Most of those he interviewed were elderly and have since passed away, but their memoirs have now been preserved.
Dr. Shemmassian did not think of asking for photographs until he met a woman who had come to the United States before 1915. She brought out a family album with rare photos of life in Musa Dagh before World War I.
After that Dr. Shemmassian became an avid collector of photographs, which became an integral part of his research. Today he has a rich collection of nearly 1,200 photographs of Musa Dagh.
During his travels to libraries in many countries, Dr. Shemmassian met the world-renowned Armenian astrophysicist Viktor Hambartsumian at the Armenian Catholic Mekhitarist Library in Vienna. Hambartsumian asked about his work and said some words of encouragement. "I regret to this day not asking for his autograph," said Dr. Shemmassian.
In the League of Nations collection of documents in Geneva, Dr. Shemmassian found a list of all males in Musa Dagh over the age of twenty who were eligible to vote in 1938. Those lists noted the birthdate, provenance, and denomination of each voter on the list. In these archives he discovered information about his great-grandfathers. The information is indispensable, considering that many such documents were destroyed during the Genocide. He collected a great deal of such information for his dissertation, "The Armenian Villagers of Musa Dagh, A Historical and Epigraphical Study from the 1840's until 1915," completed at UCLA.
In the second part of his presentation Dr. Shemmassian showed historic documents from Musa Dagh, such as report cards, passports, books, and even newspaper articles.
One newspaper article was from the Asbarez newspaper, established in Fresno in 1908. The article was published in 1909 and described fundraising done in Fresno to help the people of Musa Dagh after the 1909 Adana massacre.
The final section of the lecture chronicled the life of Musa Dagh Armenians after they had been relocated to Anjar in Lebanon.