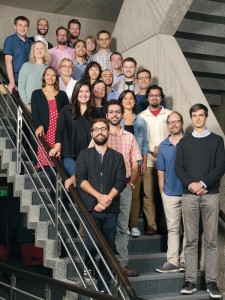 Staff Report
This summer Dr. Sergio La Porta co-taught a 5-week intensive course on Classical Armenian (krapar) at the Hill Museum and Manuscript Library (HMML) of St. John's University in Collegeville, Minnesota.
The class was funded and sponsored by the Dumbarton Oaks Research Library and Collection, located in Washington, D.C.
Dr. La Porta was joined by Dr. Michael Pifer of the University of Michigan to instruct ten doctoral and post-doctoral students in elementary Classical Armenian. The course was taught alongside a similar class for Syriac.
A requirement for admission to the program was that students had no knowledge of Classical Armenian and could not easily learn it at their host institutions. Dr. La Porta said that it was a phenomenal experience.
"The students were fantastic," he reported. "They worked really hard and thoroughly immersed themselves in the grammar and the language."
Dr. La Porta admits that both he and Dr. Pifer were slightly doubtful at first that they would be able to get through one year's worth of Classical Armenian in five weeks, but they were amazed at how quickly the students progressed.
In fact, by the final week of class, they were reading digitized manuscripts from the HMML's online library. Classes were held for eight hours a day, five days a week, and no one missed a class or came late.
In addition, "they were not only extremely bright and diligent, they were also great fun and good people. Everyone got along and we just really enjoyed ourselves."
The students' interests ranged widely and included ancient Iran, Christian theology, Late Antiquity, Crusader and Mongol history, art history, Byzantine literature, and pre-modern history.
According to Dr. La Porta, the variety of their intellectual backgrounds alone highlights the importance of Classical Armenian for so many academic fields.
One of the great joys for both teachers was that the students not only wanted to learn the language, but "as we moved along in the course, they wanted to learn more about the culture and about Armenian communities today."
The students also expressed a desire to continue studying Classical Armenian in the future.
Both Dr. La Porta and Dr. Pifer hope that they will be able to lead a second summer course that will incorporate extensive discussion on methods of translation for Classical Armenian.