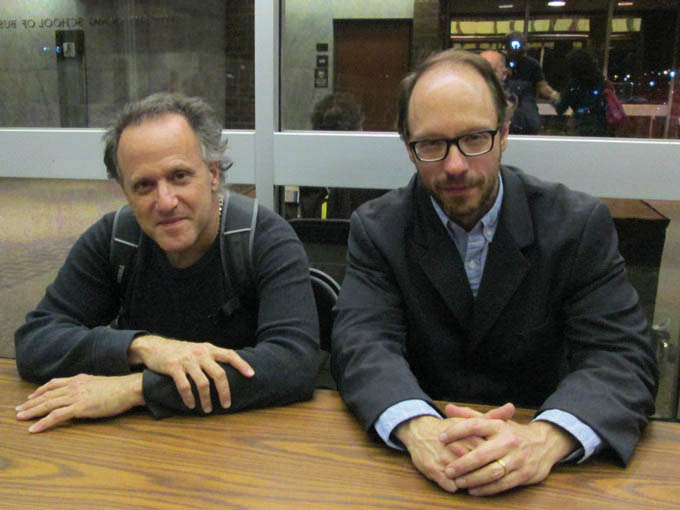 SUREN OGANESSIAN – Staff Writer
Armenian literary history is full of gifted poets and storytellers, from Agathangelos and Moses Khorenatsi, to Sayat Nova and Hovhannes Toumanian, but few broke as many rules and experimented with language, as did the early 20th century poet Kara Darvish.
On Thursday, March 20, Dr. James R. Russell introduced this obscure but nonetheless important figure in Armenian literature to an audience at Fresno State through his lecture "An Armenian Eccentric: The Life and Times of Kara Darvish." The lecture was part of the Spring Lecture Series sponsored by the Armenian Studies Program with the support of the Leon S. Peters Foundation.
Dr. Russell is Mashtots Professor of Armenian Studies at Harvard University and though having specialized in ancient and medieval Armenian literature, he has recently turned his focus to modern Western Armenian literature, which brought him to the work of Kara Darvish.
Kara Darvish was born Hakop Genjian, and lived most of his life in Tiflis, Georgia, once a cultural hub for Armenians. His pen name comes from the Turkish word for "black" and the Persian word for "poor bard." He was heavily inspired by the futurist movement, a popular philosophy in the first half of the 20th century which advocated breaking traditions and looking to the future, and he associated with other Armenian poets such as Yeghishe Charents.
Kara Darvish also wrote novels, proverbs, and manifestos, but was most famous for his poems, which he would often print on postcards and sell in front of cinemas and cafes. These poems would sometimes be nonsensical, containing words both Armenian and made-up, occasionally pasted together from several different languages. They would sometimes evoke imagery from Armenian mythology and occultism. The letters were not always read from left to right, and would be of different sizes and fonts, or sometimes faced sideways. The point was to paint a picture of the chaotic nature of real life with the words.
Kara Darvish enjoyed causing scandal as well by thumbing his nose at traditional Armenian literature, publicly criticizing Sayat Nova and even Moses Khorenatsi, which was tantamount to blasphemy in Armenian literary circles, akin to a British writer denouncing Shakespeare. He would argue, why reprint and pay so much attention to thousand-year-old books when there are talented writers today starving on the streets? Kara Darvish was of the opinion that every new writer should bring something new to the table, and not only rely on traditional methods to get their points across. His subversive, eccentric opinions were attacked by the establishment.
While initially seeing the 1917 Russian Revolution as the dawn of a new era of enlightenment, Kara Darvish and his fellow futurist writers would fall out of favor when the Bolsheviks came to power, and his work fell into obscurity, perhaps because people at the time were much more concerned with the here and now than the future. He died in 1930, with his work forgotten until more recent times. Kara Darvish's poems represent an important moment in Armenian literary history, and he is one of the few writers to treat the Armenian language as organic, versatile, and evolving, rather than rigid and unchanging. Perhaps his work can still teach us something in the modern day.