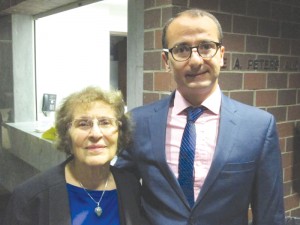 Diana Gasparyan
Staff Writer
Due to genocide and war in the Ottoman Empire and Russia in the early 20th century, many Armenians sought safe havens. Some found refuge in Europe or in the United States, while others traveled eastward to China in hope of finding a more secure life.
In China they were able to establish two active communities, one in Harbin, and the other in Shanghai. Dr. Khatchig Mouradian, Kazan Visiting Professor in Armenian Studies at Fresno State, explained how the communities formed, what challenges they faced, and how they interacted with local communities in his October 20, 2016 presentation, "'Don't Fall Off the Earth': The Armenian Communities in China from the 1880s to 1950s."
"The study of the Armenians in China provides insight into the process of forming a community from scratch and developing a cultural life to sustain and nurture it despite conflicts, wars, and adversity," stated Dr. Mouradian. "This has been an under-studied area of history, and was a fascinating one for me to explore."
There were successive waves of Armenians who immigrated to China in the period under study. The first wave was in the 1880's, when hundreds of Armenians from Russia went to China to work for railway projects and start businesses. In the years that followed the Armenian Genocide of 1915, another wave of Armenians came from the Ottoman Empire, while others escaped the chaos in the Caucasus. They often used the Trans-Siberian Railway to Vladivostok, and then on to China.
One of the largest Russian Diasporan communities was in Harbin, and so the Armenians found a familiar culture there. Some Armenian children had Chinese nannies, who had a great influence in teaching the children the Chinese language. The Armenians living in Harbin, Shanghai, and to a lesser extent Tientsin, eventually established businesses, opened restaurants, and formed social clubs thus creating a thriving, if small, community.
In 1949, after years of Civil War, the Chinese communists emerged victorious. The Armenians, alongside other Christians in China, moved once more. Some left for Soviet Armenia, while others moved to Australia, South America, or North America, and in particular to such cities as San Francisco and Fresno. By the 1950's, the Armenian communities of China had nearly disappeared.
Virginia Meltickian, who was born and grew up in China in the period under study, was present at Dr. Mouradian's lecture. Dr. Mouradian, who began his research nearly two years ago, utilized documents and photographs that Meltickian had donated to the Armenian Studies Program at Fresno State.
"One of the more important sources for my research was the Meltickian Collection. These photographs provide invaluable insight into the community's social, religious, and cultural life," said Dr. Mouradian.
In his lecture, Dr. Mouradian vividly brought to life the remarkable and unique history of Armenian communities in Harbin and Shanghai by telling the stories of those who were able to thrive in an unknown and new world.