Staff Report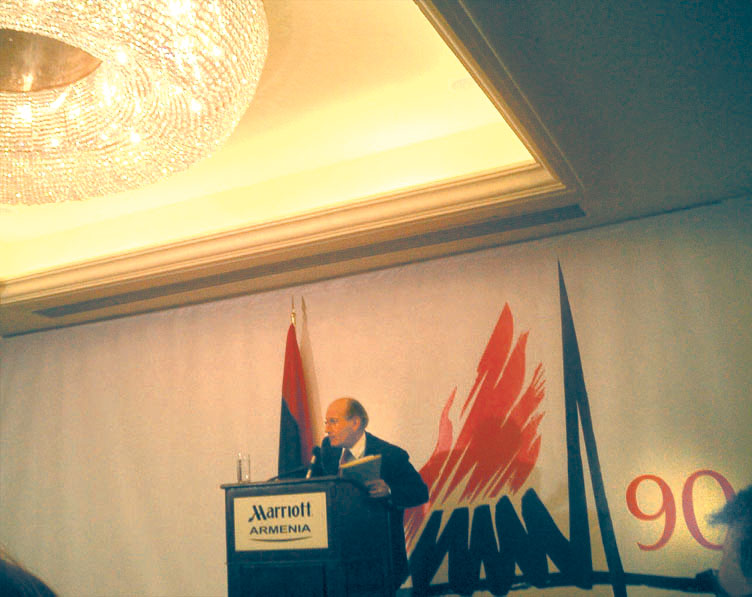 At the invitation of Foreign Minister of Armenia, Vartan Oskanian, Prof. Dickran Kouymjian participated in the special two-day conference on the 90th Anniversary of the Armenian Genocide held in Erevan 20-21 April. Major Genocide and Holocaust scholars from around the world came together to discuss both the consequences of the Armenian Genocide of 1915 and its continued denial by the Turkish government.
Those from Israel included such well-known scholars as Yair Auron and Israel Charny, but also the dean of Holocaust scholars Yehuda Bauer and Minister of Education, Yossi Sarid.
The conference opened with a speech by President Robert Kocharian, followed by one of His Holiness Catholicos Karekin II. Arkady Ghoukassian, President of Karabagh also addressed the assembly. The major outside speaker and guest was Nobel Prize winner and former president of Poland Lech Walesa.
Attendance was impressive and the audience was encouraged to ask questions of the participants.
A large group of Turkish scholars were also present including Taner Akcam, Murat Belge, Basken Oran, and Hrant Dink, editor of the Armenia weekly of Istanbul, Akos. A large group of internationally famous jurists and specialists in human rights and genocide also participated as did scholars from the United States and Canada including Vahakn Dadrian, Richard Hovannisian, Ronald Suny, Roger Smith, Donald Miller, and Rouben Adalian,
The conference was in part organized by the Zoryan Institute of Canada and their team including Kourken Sarkissian, George Shirinian and the actress Arsine Khandjian were present and very active.
There was, of course, a major group of genocide scholars from Erevan.
Professor Kouymjian was Chair of the second session entitled "The Ultimate Crime." The conference ended with a remarkable closing speech by Foreign Minister Vartan Oskanian in which he clearly and passionately laid out Armenia's foreign policy position on the Genocide, on the obstacles in establishing diplomatic relations with Turkey, and on what Armenia and Armenians feel toward the past and present of the genocide issue.
The conference was widely covered by the international press including a rather large contingent of Turkish TV and print journalists.