Marine Vardanyan
Staff Writer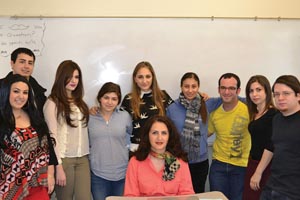 What comes to your mind when you hear of "Armenian Genocide through Literature and Translation"? For students enrolled in Dr. Sona Haroutyunian's Armenian Studies 120T class at Fresno State, the focus of the course was initially ambiguous. We entered the classroom unaware of the impact this class would have on us. Both curious and anxious, we waited to meet the 10th Kazan Visiting Professor, who was visiting for the Spring semester from Venice, Italy.
What we found was an enthusiastic and patient professor whose passion for the course topic permeated throughout her discussions and assignments, making the lessons completely interactive. The idea of the "Armenian Genocide through Literature and Translation," at first seems easy to comprehend. Yet, when one delves beneath the surface and explores the role of history, memory, and translation, one develops a profound and enlightened understanding of the course.
One eye-opening class activity involved students outlining their family tree on the board, writing the different places their ancestors had lived in, and the various languages they picked up. The previously empty white board blossomed and came to life with the history from each student. Syria, Romania, Russia, and Liberia are only a fraction of the lands our ancestors passed through. Writing down such a history led to many questions and awakened the desire to find out more about the family history, which none of us had considered doing prior to the assignment.
"I have always been obsessively diligent throughout my academic carrier to erase the board after any given lesson. However, what was created on the board that day was an interwoven tapestry of names, places, times and languages that neither my students nor myself even dared to erase. The memory seemed at once too fresh and validated yet again," said Dr. Haroutyunian. With the readings and assignments for the first segment of class, Dr. Haroutyunian has led us to the understanding that each of us have a mission to continue our ancestors' voyage.
As we worked towards our midterm, many students faced self-doubt, not believing in their ability to present a short memoir on an ancestor. Yet Dr. Haroutyunian encouraged students and assured them that when the moment arrived, they would be prepared. We realized that each assignment and reading preceding the midterm was to help prepare us for these memoirs. Excited to find answers about our family history, each of the students went home to interview family members, dig through old photographs, and to do more research.
Students offer a reflection on their writing process:
Aram Hajian
"After taking this class, I realize that without knowing who your ancestors are you would be lost in this world. Before, I did not view this information as valuable as I do now. My dad was extremely happy I was asking so many questions about our past. He has been trying to tell me about it my whole life but I never had a full story before. I'm glad that I could also help my grandmother through this assignment, by bringing up memories in her mind that she hadn't thought about in a long time."
Alik Pilavian
"During class assignments I started to wonder about my roots. My dad and grandma's reaction to me asking questions and being interested was more than anything exciting for them. I loved writing my own memoir because this is something that will stay with me forever. I also enjoyed listening to everyone else's stories because it reminds you that each and every family went through such different things."
Tatevik Hovhannisyan
"This class has offered one of the most interesting and exciting assignments I have ever had. It made me realize how little I know about my family. The urge to go to Kars and find the area where my grandfather lived became stronger, especially since he was never able to return. Writing my memoir taught me to be more positive about my life, like my grandfather was, as he never gave up on anything."
Suren Oganessian
"Through readings and assignments, the class enabled me to take the initial steps towards writing about my grandfather's past, something that had interested me for a while. My grandfather's life story has passed through a series of filters before arriving to me, limited by translation, oral history of sometimes questionable reliability, and exactly how much my grandfather himself was willing to divulge. So what I am left with are puzzle pieces for me to put together. It will be a long process."
Mounah Saksouk
"Writing a memoir is like taking off clothes because no matter the outcome you are still revealing something that is intimate about you or people that you know. Both my grandmother and mother were excited to hear and know that I was attempting to 'treasure their memories' on paper instead of only in my head or through pictures. As I wrote the memoir, I felt overwhelmed by emotion."
As students gain further confidence and understanding of the course topic, they are beginning the second part of the class.
"I look forward to seeing the same enthusiasm and the same active presence and participation of the students. Now that they went through their personal experience of writing and sharing the trauma that affected their families, they are ready for Armenian genocide narratives and memoirs written by world famous authors such as Antonia Arslan and Fethiye Çetin," commented Dr. Haroutyunian.