Tatevik Hovhannisyan
Staff Writer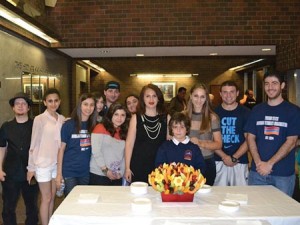 The Armenian community has been learning quite a bit about the effects of translations this spring semester, as Dr. Sona Haroutyunian (University of Venice, Italy), the 10th Kazan Visiting Professor of Armenian Studies, has shared her knowledge in a three-part public lecture series on "The Theme of Genocide in Literature, Translation, and Cinema."
Dr. Haroutyunian concluded her series on Wednesday, April 10, with a presentation focused on "The Theme of the Armenian Genocide in Cinema."
Dr. Haroutyunian discussed the dramatized version of Antonia Arslan's genocide narrative, Skylark Farm, directed by the Taviani brothers, and co-produced by Italy, Spain, Belgium, France and the European production company Eurimages.
The Taviani brothers asserted that the film was to be a freely inspired version of Skylark Farm, with the plot being relatively similar to that of the novel, but that as directors they had the right to editorialize and to insert material not found in the book.
"This is quite normal," explained Dr. Haroutyunian, "because even if it originates from a novel, the filmmaker translates film with their own perception (translation) of the fiction. The goal is to awaken curiosity, interest, and even engagement in the historical event. The limitations and strengths of the film adaptation are evident in the selection of passages from the novel, the cinematic treatment of those passages, and the omission of passages. The production of the film itself is a translation within itself."
To illustrate her points, Dr. Haroutyunian screened several scenes from the film. She stated that the genre the filmmakers chose to use was important as well, and explained how a different film genre would have created a different kind of viewing experience.
"When we ask about the effect of a film, we are dealing with the rhetorical and artistic purposes of the film, i.e. we are probing into the film's skopos or purpose with regard to audience. Cinema is an excellent tool to raise awareness about the Armenian Genocide to large audiences," said Dr. Haroutyunian.
When the Taviani brothers were shooting the film in 2006, they wanted to see their movie circulated through Italian schools. Dr. Haroutyunian stated that the goal was accomplished as the film is now shown in eighth grade classrooms, when the students learn about World War I.
Dr. Haroutyunian stated that the purpose of her three public lectures was to analyze the different effects that each medium (literature, translation, cinema) has on the experience of its readers and audience-what that medium was trying to cultivate, the limitations of each and, as the audience witnessed, how all of them brought greater attention to the historical phenomenon of the Armenian Genocide.
Dr. Haroutyunian concluded, "I would like to extend my sincerest thanks to the Armenian Studies Program for inviting me to teach and lecture at Fresno State, and to my students who with their enthusiasm made my lessons a living experience.
My warmest regards also to the hundreds of Armenian and non-Armenian audience members who attended my public lectures, organized by the Armenian Studies Program, the Department of Linguistics at Fresno State, the USC Institute of Armenian Studies, the AGBU Fresno, the Women's League of the Charlie Keyan Armenian Community School, and by the Keyan Armenian School.
I am indebted to them for all the discussions and the detailed comments and exchanges, which have given me new insights for my further research."