Lucie Ekezyan
Staff Writer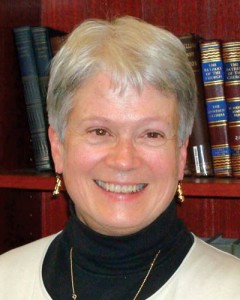 Dr. Roberta Ervine was appointed as the 12th Kazan Visiting Professor of Armenian Studies at Fresno State for the Spring 2016 semester. She will teach a course, Armenian Studies 120T, entitled "Great Tragedies and Great Ideas: Learned Armenians and the Genocide." Dr. Ervine's course will examine the intellectual history of Armenians and the responses of Armenian intellectuals to the Armenian Genocide. As part of her duties, Dr. Ervine will also give three public lectures during the semester on topics related to the course.
Prior to coming to Fresno State, Dr. Ervine was Professor of Armenian Studies at St. Nersess Armenian Seminary in New York, where she was also the editor of the St. Nersess Seminary Theological Review.
Dr. Ervine was born into an Irish family in Bridgeport, Connecticut and attended Whea-ton College in Illinois, where she received a Bachelor of Arts degree in English Literature and a minor in Religion. Inspired by her studies, Dr. Ervine decided to travel to Jerusalem during her senior year at Wheaton College–a decision that shaped the rest of her career.
The visit to Jerusalem was the match that sparked Dr. Ervine's interest in Armenian Studies. There, she had the opportunity to visit historic Armenian sites and churches and to be inspired by Armenian history.
After returning from Jerusalem, Dr. Ervine visited the Armenian Church of Holy Ascension in Trumbull, Connecticut, where she received informal lessons in Armenian language from the late Rev. Fr. Levon Arakelian. She then applied to the Armenian Studies Program at Columbia University, where she received her Ph.D. on the topic of "Hovannes Erznkatsi Pluz and His Compilation of Commentary on Grammar" in 1986. At Columbia University, Dr. Ervine's research interests in medieval studies led her back to Jerusalem, where she lived in the Armenian Monastery of St. James for 21 years and studied under His Grace Abp. Norayr Bogharian, curator of manuscripts.
Professor Abraham Terian–then the Dean of St. Nersess Armenian Seminary–presented her with an opportunity to return and teach in the United States. "It was perfect timing because I was ready to leave Jerusalem, but didn't know what I was going to do next. St. Nersess was a wonderful place where I would be able to teach medieval, Armenian spirituality and thought," said Dr. Ervine.
At Fresno State Dr. Ervine hopes to excite students about a topic she is passionate about. "I had always wanted to visit [Fresno State], so when I received the announcement that they were taking applications, I applied," said Dr. Ervine. Although the Armenian Genocide is a topic that has been taught by others, Dr. Ervine stated "what I can contribute is a new perspective. I look at the modern period with the point of view of 1600 prior years of history."
Dr. Ervine actively pursues research in topics related to the history of Armenians in Jerusalem and the intellectual traditions of the Armenian Middle Ages. "Without Armenian Studies," concluded Dr. Ervine, "you have an incomplete picture. It is a vital and beautiful piece of the entire puzzle, and without it, there is just a hole there that mars the picture."