Lauren Chardukian
Staff Writer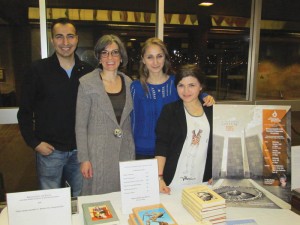 This semester, the Armenian Studies Program welcomed Dr. Myrna Douzjian as the 11th Kazan Visiting Professor in Armenian Studies at Fresno State. As part of her responsibilities as Visiting Professor, Dr. Douzjian will be giving a series of lectures about her area of expertise, "The Armenian Genocide in Film."
The first of her three-part series, titled "Bridging History and Fiction: Serge Avedikian's Chienne d'Histoire as Allegory for the Armenian Genocide" took place on Wednesday, February 11, in the Alice Peters Auditorium in the University Business Center.
Prior to her analysis, Dr. Douzjian screened Chienne d'Histoire to give context to the ensuing discussion. Film director Avedikian, a native of Armenia, currently lives in France. The animated film was about 15 minutes in length and was beautifully created, with an unusual style unlike most films with the theme of Genocide. Chienne d'Histoire uses images, sound, and the compassion engendered by the images to evoke a response in the viewers.
Dr. Douzjian highlighted the differences between fact and fiction, and how a fictitious story can be used to represent fact. She also pointed out that it is important to pull the facts out of the fiction or the original message will be lost in the method of delivery.
The subject of this short film was actual events that happened in 1910 in Constantinople, the evacuation and eventual termination of the stray dogs in the city. The dogs were sent to an island called "Barking Island," after the noise made by the stranded canines. Dr. Douzjian explained the similarities between the methods used by the Turkish officials when removing the dogs and the methods used later during the Armenian Genocide.
Dr. Douzjian noted similarities in the methods and behavior of the government in both cases. For someone who is familiar with the Armenian Genocide, it is easy to see it represented in the film through allegory. The plight of the dogs clearly represented the Armenians. However, much of the film was open to interpretation.
According to Dr. Douzjian, "The film only makes a single, entirely inconspicuous, reference to the Armenian Genocide." However, she believes the reference, though a very loose connection to the Genocide, was not fundamental for conveying the film's representation of the Armenian people and the Genocide.
Dr. Douzjian selected the perfect film for her first lecture because it encouraged the audience to think and ask questions that are not usually brought up in such lectures. The film is unlike many other Genocide inspired works, which was a refreshing change. The lecture was followed by many questions and conversations reflective of the unique perspectives of the audience.