Aramayis Orkusyan
Staff Writer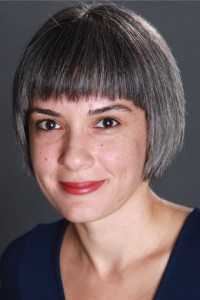 Each year, the Armenian Studies Program at Fresno State has the remarkable opportunity of inviting an internationally recognized scholar in contemporary Armenian affairs to teach a one semester topics course related to Armenian history, the Armenian Genocide, and the formation of the Armenian Republic. This opportunity is made possible through the generous endowment of the Henry S. Khanzadian Kazan Visiting Professorship, which has provided for ten scholars to teach at Fresno State since 2000.
Joining the Armenian Studies Program in Spring 2015 as the eleventh Kazan Visiting Professor will be Dr. Myrna Douzjian, who earned her Ph.D. in Comparative Literature from the University of California, Los Angeles, in 2013. Her research has focused on a number of topics related to Armenian, Russian, and European studies and has placed Armenian cultural production in conversation with other national tenets and theoretical frameworks. Dr. Douzjian will teach a three unit course on Wednesday evenings, Armenian Studies 120T, "The Armenian Genocide in Film: Theoretical and Comparative Perspectives."
Since its inception, film has been an important medium that has provided a new lens through which to think about complex issues. Filmmakers have used the medium to tell the difficult stories of atrocities, to depict deeply disturbing crimes against humanity, and to urge awareness and action.
"[Film] is a powerful medium for challenging the status quo and disrupting the worldview of audiences," says Dr. Douzjian. Indeed, anyone who has watched a film about the Armenian Genocide or the Holocaust can attest to the ability of film to express the inexpressibility of genocide.
Students taking the course will study films that deal with the Armenian Genocide as well as considering filmic representations of the Holocaust, the Cambodian Genocide, and the Rwandan Genocide.
However, the class will not consist merely of watching films.
Students can plan on broadening their analytic skills as Dr. Douzjian would like to "engage [students] with theoretical readings on trauma, memory, and historiography in order to develop their analyses of the films."
On a microscopic level, Dr. Douzjian hopes that after completing her course, "students will find the theoretical and filmic texts in the class useful for thinking about genocide in new and complex ways." In broader terms, however, Dr. Douzjian's greatest hope is that "students will never watch another movie without thinking about how to interpret it."
Although Dr. Douzjian often tries to incorporate an Armenian novel, play, epic, or film in the many general education courses she teaches, the Armenian Studies 120T course will be the first time that she has designed a course that centers on an Armenian topic.
Excited for the semester ahead, Dr. Douzjian stated "For the first time, I'll be bringing my Armenian studies expertise to an entire course. Naturally, I'm thrilled about it!"
Much the same, the Armenian Studies Program is excited to welcome Dr. Douzjian to Fresno State.